USA
World News
WSL, Premier League and Bundesliga finals, plus playoff finals – football news | Soccer
Key events
Liverpool: Jurgen Klopp is currently speaking to the ladies and gentlemen of the Fourth Estate and has just said that Liverpool's final game of the season against Southampton on the south coast is strange because there is nothing at stake for either side. After Manchester United's victory over Chelsaea last night, Liverpool can no longer qualify for the Champions League and Southampton are already relegated.
"I'm not used to last day matches where everything is sorted out beforehand. I don't remember when it was the last time. We are only playing this match to win the match and we have to make sure that I find a line-up with good legs, a lot of desire and we have to see… we will not take any risks with the players. That does not make any sense. We have a big group, the practice was really good and the boys were really into it. I haven't made a decision yet because I haven't seen the doc yet but I'll have a chat with him and we'll see who's in conflict.
Brighton: With Europa League qualification secured, Brighton boss Roberto De Zerbi has said he will need to add bodies to his squad, especially if hotly sought-after pair Moises Caicedo and Alexis Mac Allister are sold during the summer. He, however, said he would not bring in too many new players.
"Monday starts the most difficult period of my season because without football it's difficult," he said ahead of his team's trip to Aston Villa. "I can't wait to start the next pre-season. I think we have to work during these holidays because we have to build a new team to prepare for the new season. I think we don't need so many players. We need to understand if Caicedo, Mac Allister [are sold] – I don't know which players can leave – so we need to bring in very good players because next season will be tougher than this one.
When asked what kind of money club owner Tony Bloom will give him to spend, De Zerbi put on a straight face that would have been the envy of his poker-playing boss. "I can only speak about the characteristics, the quality of the players," he said. "Money is not my job. Of course I can tell you that we have to have a stronger team, a bigger team because we will be playing in four competitions. And we have to be ready to compete in our own way in those four competitions because we arrived with 14, 15 players in the crucial part of the season.
"Next year will be more difficult because in the history of the Premier League it can happen that clubs win the Europa League and next year you have to fight to avoid relegation."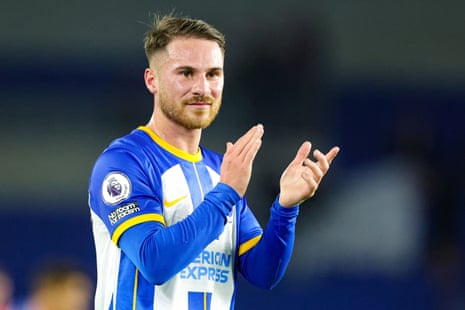 Or it started last night, for the purposes of this treadmill of hot football news. Playing the game in hand they had against the other 18 Premier League teams, Manchester United caused more misery for Chelsea by subjecting them to a fairly complete cover-up at Old Trafford, thus securing their place in the Champions League of next season. United hosted Fulham in the final round of the Premier League on Sunday, while Chelsea's last chance to salvage some dignity from a disastrous campaign comes in a game against top-flight Newcastle at Stamford Bridge.
There are many more important things unfolding over the weekend, with the top-flight relegation battle running to its conclusion and the Women's Super League denouement taking place, while three finals EFL playoffs will also be decided.
One of Luton Town or Coventry City will be promoted to the Premier League tomorrow night, an outcome that even the most far-sighted of fortune tellers could not have foreseen at the start of the season. Elsewhere, the final round of matches will be played in the Scottish Premiership and a home win against Mainz will see Jude Bellingham's Borussia Dortmund beat Bayern Munich for the Bundesliga title. There will be no shortage of news and discussion ahead of the weekend to stay through, so we'll keep you posted on all the news as it happens.
theguardian
Not all news on the site expresses the point of view of the site, but we transmit this news automatically and translate it through programmatic technology on the site and not from a human editor.