USA
World News
Who is Udhayanidhi Stalin, who caused a political storm with his remarks?
He sparked a political row with his comments on Sanatan Dharma. Udhayanidhi Stalin angered the ruling Bharatiya Janata Party (BJP), which accused him of calling for genocide. Now, a complaint has been filed against Dravida Munnetra Kazhagam (DMK) Dynasty to Delhi Police by Supreme Court Attorney and Hindu Sena and they have applied for an FIR.
Udhayanidhi Stalin has made national headlines and is likely to face more criticism. The controversy is far from over.
We take a look at Udhayanidhi's political rise and life beyond.
Who is Udhayanidhi Stalin?
Udhayanidhi Stalin is the Minister of Sports and Youth of Tamil Nadu. Son of Chief Minister Stalin, the 45-year-old entered politics in 2019.
Before the Lok Sabha elections, he was appointed secretary of the youth wing of the DMK.
During the national election campaign, the DMK cadres were won over by their charisma. He drove across the state with a brick bearing the words "AIIMS". He told the audience that the AIADMK government had promised the establishment of an All India Institute of Medical Sciences (AIIMS) in Madurai, the foundation stone of which had been laid by Prime Minister Narendra Modi, but that the work was not carried out. hadn't started yet.
Udhayanidhi made his electoral debut in 2021 from Chepauk-Thiruvallikeni of Chennai, which is a DMK stronghold held by his grandfather Karunanidhi from 1996 to 2011, and emerged victorious. A year later, Udhayanidhi joined the State Cabinet.
But Udhayanidhi had a career beyond politics. He was a Tamil actor and producer who made his debut in 2012. He played the lead role in a romantic comedy titled Oru Kal Oru Kannadi.
Most recently, in June, Udhayanidhi starred in a political drama Maamannan, directed by well-known filmmaker Mari Selvaraj and produced by Red Giant, a production house linked to Udhayanidhi. The film dwelt on caste and its role in Dravidian politics.
However, Udhayanidhi said it would be his last project as an actor. "I would probably give myself a five out of 10 as an actor. It was a short period during which I made about fifteen films. But I will always be proud of my first film and my last," he said in a conversation with The Hindu in June.
Even though the DMK descendant may have said goodbye to the acting profession, his production house wields a big influence on the Tamil film industry. When the party was in power from 2006 to 2011, it was accused of trying to monopolize the industry, according to a report published in The Indian Express.
Udhayanidhi is married to Kiruthiga, director and editor of a literary magazine. She wrote and directed a web series, Paper Rocket, released last year.
He is close to his mother Durga, who ensured a smooth succession within the party. She did not want Udhayanidhi to face obstacles like her husband did who often clashed with his brother Alagiri.
It is said that Udhayanidhi is the future of DMK. Right now, he has put his party in a sticky spot with his controversial comments.
Read also: Quarrel between Udhayanidhi and Stalin: what is the Sanatan Dharma that the Tamil minister "wants to eradicate"?
What did Udhayanidhi say about Sanatan Dharma?
At a meeting of the Tamil Nadu Progressive Writers and Artists Association in Chennai on Saturday, Udhyanidhi reportedly said, "Some things cannot be fought, they have to be eradicated. Mosquitoes, dengue fever, malaria and corona cannot be opposed. They should be eradicated. The same goes for Sanatan [Dharma]." He alleged that it was contrary to equality and social justice,
After his remarks were criticized by the BJP, the Tamil Nadu minister denied calling for genocide as alleged in the allegations and stood by his statement that Sanatan Dharma "divides people in the name of caste and race." religion" and must be "uprooted".
"Let me reiterate the crucial aspect of my speech: I believe, such as the spread of diseases like COVID-19, dengue and malaria through mosquitoes, that Sanatan Dharma is responsible for many social ills," he said. he declared.
He told reporters on Sunday that he was critical of Sanatan Dharma and called for its eradication. "I will say it continuously," he said.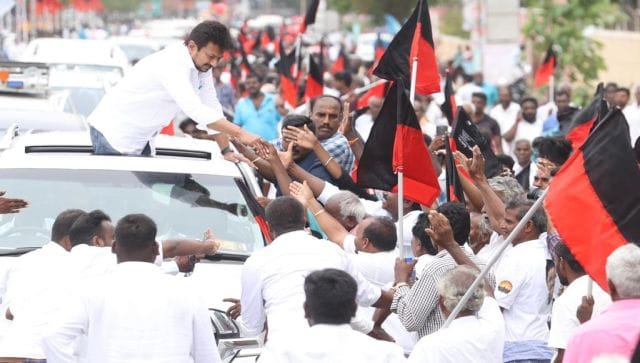 The Tamil Nadu minister accused the BJP of "distorting" its statement and spreading false news, while adding that it was ready to face any lawsuits against it. "I am ready to face any lawsuits they will bring against me. The BJP is afraid of the INDIA Alliance and wants to distract from the fact that they are saying all this. DMK policy is: One clan, one God," he said.
ALSO READ: Udhayanidhi Stalin's Call for Hindu Genocide Does a Great Service to BJP in Tamil Nadu
What is the negative reaction that Udhayanidhi receives?
After BJP spokesperson called Udhayanidhi's remarks a 'call for genocide', Home Minister Amit Shah hit out at Indian coalition, accusing opposition of insulting Indian culture in matters of voice banking and politics of appeasement.
Speaking at a rally in Dungarpur, Rajasthan, he said: "I have seen for two days that you (the INDIA coalition) want power, but at what cost? For two days, you insult the culture, history and Sanatan Dharma of this country.
"Two major INDIA coalition parties, the DMK and the Congress, their senior leaders – one being the son of a (former) finance minister and the other the son of a chief minister – say that Sanatan Dharma must be ended. Tell me, are you ready to end Sanatan Dharma," Shah asked, according to a report by The Indian Express.
Shah was referring to Congress leader and P Chidambaram's son Karti Chidambaram who said there was nothing wrong with what Udhayanidhi said since Sanatan in common Tamil parlance means hierarchical caste society.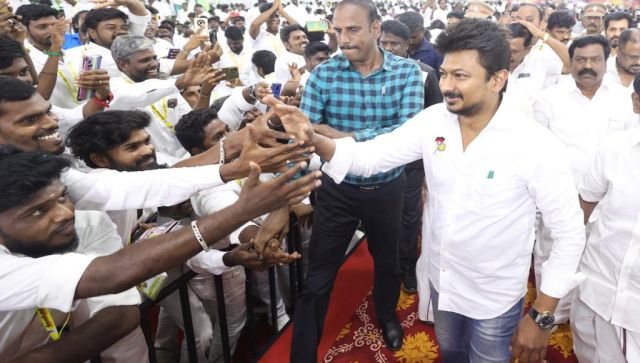 Union Finance Minister Nirmala Sitharaman has shared an old video of Tamil Nadu Congress Leader KS Alagiri claiming that the aim of the alliance in the state is to destroy Sanatan Dharma. She said that when Udhayanidhi Stalin made the statement on Sanatan Dharma, Tamil Nadu Minister for Hindu Religious and Charitable Endowments, PK Sekar Babu was present and he did not protest.
However, this is not the first time he has angered the BJP.
When Udhayanidhi attacks the BJP
On Saturday, the DMK dynasty slammed the AIADMK for supporting the Centre's "one nation, one poll" idea and said, "The first A in the AIADMK does not stand for 'Anna' but Amit Shah. »
At a DMK Youth Executive Committee meeting in Pudukkottai, he compared the BJP to a "snake seeking to sneak into Tamil Nadu State through a bush called AIADMK". "To eliminate the BJP, we have to eliminate the AIADMK," Udhayanidhi said, adding that the only person who benefited from the BJP regime is businessman Gautam Adani.
In July, after a law enforcement leadership raid on two senior DMK ministers, Stalin Junior told Kalakurichi that not only he, but even a DMK official, would not be afraid of the DE.
"Who do you think I am for that I'm afraid of your erectile dysfunction?" I am the grandson of Kalaignar (M Karunanidhi) and the son of MP Stalin… I am not afraid of Modi or ED. You (ED) are welcome anytime. Let me know when you're raiding, so I can be home. Not only me, but even a DMK official wouldn't be afraid of you.
Udhayanidhi clashed with Amit Shah, who criticized Rameswaram's DMK dynastic policies. Asking about his son Jay Shah's role in BCCI, the Minister of Tamil Nadu said, "I want to ask Amit Shah, how did your son become secretary of BCCI? How many cricket matches has he played? How many points has he scored so far?
With the contribution of the agencies
firstpost
Not all news on the site expresses the point of view of the site, but we transmit this news automatically and translate it through programmatic technology on the site and not from a human editor.