USA
What to know as year-long construction project begins Monday on the Kennedy Freeway – NBC Chicago
Starting Monday evening, travel to and from Chicago will look very different for many commuters for some time.
Construction on a busy 7.5-mile stretch of the Kennedy Freeway is scheduled to begin Monday evening at 10 p.m., marking the start of a multi-year project that is expected to run through the fall of 2025.
The project will lead to lane closures and major impacts on traffic, with transportation officials suggesting commuters adjust work schedules, work remotely if possible, or find alternative transportation.
Construction will likely have impacts on both public transport and inbound and outbound journeys.
Here's what you need to know:
Where will the construction take place and for how long?
In total, the work will take place in three stages which will continue over three "construction seasons", with an expected end date of autumn 2025. Nevertheless, officials stressed that the schedule is "weather permitting". and may be subject to change.
Here's what the Illinois Department of Transportation says to expect:
Stage I – Incoming Kennedy
Two inbound lanes on the mainline will be closed at a time. To help minimize the impact on traffic, the reversible express lanes will remain open in the inbound direction and motorists will only be able to exit the express lanes from Armitage Avenue. Lane changes and night lane closures, as well as various ramp closures will be required to complete the work. Later this summer, painting and installation of new LED lighting will begin in Hubbard Cave, between Ohio and Lake streets. Construction is expected to be completed later this fall, with all lanes and ramps reopening and normal expressway operations resuming.
Phase II – Reversible expressways
The reversible expressways will be closed to allow rehabilitation of the REVLAC system and bridge structures, as well as roadway repair. In addition, main lane closures will be required to accommodate painting and installing new LED lighting in both directions of Hubbard's Cave, between Ohio and Lake streets. Construction is expected to begin in spring 2024 and finish in fall 2024.
Stage III – Outgoing Kennedy
The reversible express lanes will remain open in the outbound direction, while two main outbound lanes will be closed at once. Lane changes and overnight lane closures, as well as various ramp closures will be required to complete the work. In addition, the installation and painting of new LED lighting will be completed on the Hubbard's Cave exit, between Ohio and Lake streets. Construction is expected to begin in spring 2025 and finish in late fall 2025.
When do the lane closures start?
The first lane closures will begin from 10 p.m. Monday.
"So Tuesday morning … the motoring public will see those two left-hand lanes closed on arrival," said IDOT construction office chief Jon Schumacher. "The inversions will be in the continuously incoming pattern 24/7 for the rest of the year." And starting about a week after that, the full seven and a half miles will be staged. It's just that it's the part of the Kennedy that when it was built, it's the section that was built at the time it was programmed to do it."
The first steps will simply be to get "the work area in place".
"Work initially consists of setting up the work area and gradually reducing the 7.5-mile stretch of the incoming Kennedy to two lanes of passage," IDOT said in a statement. "Crews will install barriers from Edens Junction south to Ohio Street. This process is expected to take place each night from 10:00 p.m. to 5:00 a.m. the following morning and should take approximately one week for the work area to be in place. place."
What is the full timeline?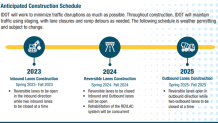 Which areas will be most impacted?
Although this year's work is focused on inbound construction, causing many delays, outbound commuters can also expect to see additional traffic, as the express lanes will remain in the inbound direction for the rest of the year.
Public transport will also likely see an increase in ridership, although some agencies are already increasing their presence in anticipation.
What can I take instead?
IDOT officials have urged drivers to adjust their schedules or find alternate modes of transportation during construction.
"Look for alternate routes, take Metra, take CTA," Schumacher said. "We also recommended that people consider staggering their working hours. So if they could start a few hours earlier, they might be able to avoid the worst of rush hour traffic. the same way, coming out of the pandemic, a lot of people have been able to work remotely, so if some people can work remotely, if that's something they're able to do, that's also going to help us minimize some traffic impacts that we are going to see."
Metra announced this week that it is revising its schedule on the UP Northwest line beginning April 3 to add 12 trains to its lineup of weekday services.
"Metra monitors ridership as well as customer feedback, and these schedule changes respond to ridership trends and increase capacity and convenience by expanding peak time as well as off-peak service," said the Metra CEO and Executive Director Jim Derwinski in a statement. "And with a major multi-year rehabilitation project set to kick off on the Kennedy Freeway, this new schedule allows Metra to provide more commuters with a viable and far less stressful alternative to driving."
IDOT also suggested commuters get out earlier and use the arterials for their journeys, although they noted it could be a trial and error process.
"Just find the route that works best for you," Schumacher said. "And it won't be…the first route you take on Tuesday morning may not be the best one. Keep trying different alternatives and see what works for you based on your travel time and destination. and that should help minimize your incidences."
Why is this project taking place?
The estimated $150 million project includes "the rehabilitation of 36 bridge structures and the Reversible Lane Access Control System (REVLAC), replacement of overhead signage structures, installation of new signage and modernized LED lamps, road leveling and structural painting". Hubbard's Cave, from Grand Avenue to Wayman Street, will also be painted and new LED lighting will be installed, IDOT said.
NBC Chicago
Not all news on the site expresses the point of view of the site, but we transmit this news automatically and translate it through programmatic technology on the site and not from a human editor.