Entertainment
War on Creation Must End, Pope Says in Day of Prayer Message
VATICAN CITY (CNS) – People must end the "senseless war on creation" and help the victims of environmental and climate injustice, Pope Francis has said.
"We must do this by resolving to transform our hearts, our ways of life and the public policies governing our societies," the pope said in his message for the 2023 Global Day of Prayer for Creation.
Some injustices requiring immediate responses are "economic policies that promote outrageous wealth for a privileged few and degrading conditions for many others", the continued exploration and expansion of fossil fuel infrastructure, and "predatory industries" that deplete and pollute freshwater sources, he wrote in his message, which was released by the Vatican on May 25.
The Global Day of Prayer for Creation, which will be celebrated on September 1, marks the beginning of the ecumenical season of creation. The season ends on October 4, the feast day of Saint Francis of Assisi, patron saint of ecology. The theme for 2023 is "Righteousness and Peace Flow", based on the verse from the Book of Amos (5:24), "Let Justice gush forth like waters and righteousness like an inexhaustible stream".
The verse describes how God wants justice to reign and "flow wherever it is needed," the pope said in his message.
"God wants everyone to strive to be just in every situation, to live by his laws, and so allow life to flourish," he wrote. When the faithful have "a right relationship with God, humanity and nature, then justice and peace can flow like an endless stream of pure water, nourishing humanity and all creatures".
The Pope recalled his visit to the shores of Lac Ste. Anne in Alberta, Canada, in July 2022, and how many generations of Indigenous people have found solace and strength there. It is imperative, he added, that people "harmonize our own rhythms of life with those of creation, which gives us life".
Unfortunately, he wrote, the heartbeats of so many people do not beat in harmony with the heartbeats of creation and God; "They are not harmonized in justice and peace."
Too many people "are prevented from drinking from this mighty river," the pope wrote. "Let us answer our call to stand with the victims of environmental and climate injustice and end the senseless war on creation."
Some effects of this war include the pollution of waterways and the drying up of rivers, he wrote.
"Consumerist greed, fueled by selfish hearts, is disrupting the planet's water cycle," he wrote. "The rampant burning of fossil fuels and the destruction of forests are driving up temperatures and leading to massive droughts."
"Additionally, predatory industries are depleting and polluting our freshwater sources through extreme practices such as hydraulic fracturing for oil and gas extraction, uncontrolled mining megaprojects, and intensive animal farming," he added.
Christians can "contribute to the mighty river of justice and peace in this season of creation" by transforming hearts, lifestyles and public policies, he wrote.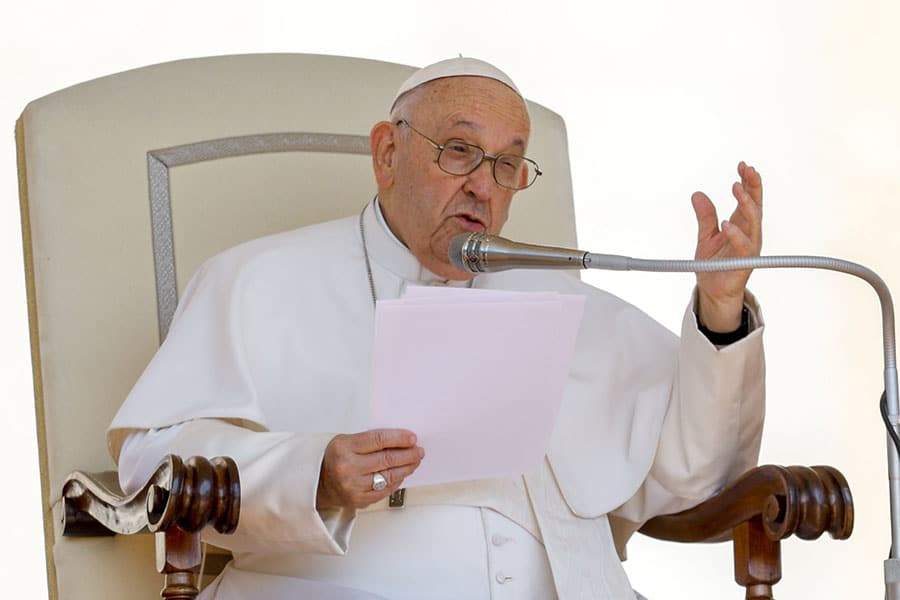 Individuals must rediscover creation as a loving gift from God and repent of their own "ecological sins", he said in his message. "Let us adopt lifestyles marked by less waste and unnecessary consumption", put an end to unjust economic policies and phase out development and dependence on fossil fuels.
World leaders who will gather for the COP28 summit in Dubai from November 30 to December 31. 12, he wrote, "must listen to science and institute a rapid and just transition to end the age of fossil fuels."
Based on commitments made by nations with the Paris Agreement to limit global warming, "it is absurd to allow further exploration and expansion of fossil fuel infrastructure," he said. added.
"We can and we must prevent the worst from happening," Pope Francis said. People must come together "like so many streams, streams and streams, eventually merging into one mighty river to irrigate the life of our wonderful planet and our human family for generations to come."
"Let's join hands and take bold action to 'let justice and peace flow' into our world," he wrote.
Presenting the pope's message at a press conference at the Vatican on May 25, Canadian Cardinal Michael Czerny, prefect of the Dicastery for Promoting Integral Human Development, gave some examples of what people can do.
He said people can: host community screenings of The Letter: A Message for Our Earth, which is available for free on YouTube Originals and TheLetterFilm.org; join the Laudato Si' action platform at laudatosiactionplatform.org; and join networks such as Caritas and the Laudato Si' movement.
Tomás Insua, executive director of the Laudato Si' movement, said at the press conference that "while most other world leaders, especially the most powerful ones, remain lukewarm and in too many cases subservient to corporate interests, Pope Francis continues to be a beacon of moral leadership on this crucial issue.
Copyright © 2023 Catholic News Service/United States Conference of Catholic Bishops

To print
catholicreview
Not all news on the site expresses the point of view of the site, but we transmit this news automatically and translate it through programmatic technology on the site and not from a human editor.