USA
World News
Turkey and Syria earthquake toll tops 7,800 as rescue efforts fail | 2023 Turkey-Syria earthquake
Aftershocks, freezing temperatures and damaged roads are hampering efforts to deal with the huge humanitarian emergency triggered by Monday's 7.8 magnitude earthquake in southern Turkey and northern Syria, with 7 800 people dead and another 380,000 seeking refuge in Turkey alone.
As the scale of the devastation caused by the initial earthquake – and a second tremor – became clearer, Turkish authorities declared a state of emergency in 10 provinces and the World Health Organization warned that the death toll could exceed 20,000.
As of Tuesday evening, the death toll had passed 7,800. In Turkey, 5,894 people have been confirmed dead and around 32,000 have been injured. Syria's death toll rose to 1,932 as of Tuesday evening.
Residents of remote towns in southern Turkey have described how relief efforts have been stretched to breaking point, amid the destruction of a border region stretching nearly 650 miles. In rebel-held northern Syria, volunteer rescuers said they lacked fuel and some of the most basic supplies needed to pull those still trapped under the rubble of their homes.
An unknown number of people remain trapped and efforts to find survivors have been frustrated by the freezing conditions. Poor internet connections and damaged roads between some of Turkey's worst-hit cities, home to millions, have also hampered rescue teams.
A spokesperson for the United Nations Office for the Coordination of Humanitarian Aid (OCHA) said Turkey's critical aid flow to northwestern Syria was temporarily halted on Tuesday morning due to damage. roads and other logistical issues. She added: "We don't have a clear picture of when it will resume."
Turkey's disaster management agency said it had received 11,342 reports of building collapses – of which 5,775 had been confirmed – while more than 8,000 people had been pulled from the rubble. According to Turkish authorities, some 380,000 were in government shelters or hotels; others had sought refuge in shopping malls, stadiums, mosques and community centers.
Murat Harun Öngören, coordinator of AKUT, Turkey's largest civil society relief and rescue organization, said efforts to reach those affected in southern Turkey had been severely hampered by the cold weather. and icy conditions – as well as the sheer size of the affected area.
"We often define major earthquakes as disasters. It's more than an earthquake, it's a disaster," he said.
The coordinator said those trapped under the rubble were at increasing risk by the hour. "Making sure people get the right help might not be easy for the first 72 hours after such large and catastrophic earthquakes," he said. "Team coordination, transportation and logistics issues are not easy.".
Öngören also said that the actual number of collapsed buildings was likely to greatly exceed the count confirmed so far, adding: "When you combine the number of these collapsed buildings with other criteria, I can say that we are facing a difficult operation.
Ali Ünlü, from the remote town of Adıyaman near the quake's epicenter in Kahramanmaraş, said he had been working since Monday morning to free his elderly mother who was trapped under the rubble of her home.
"After the earthquake, I ran to my mother's house and saw that the building had collapsed. I was devastated. I started to wait for the rescue teams, but they didn't show up. I started calling officials, all lines cut," he said.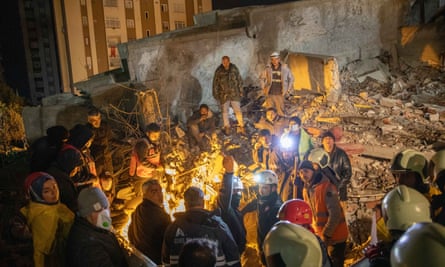 "The weather is extremely cold and we have no food. At first, a relative of mine texted that he was under the rubble and we could hear his voice under the rubble. He was trapped there for four hours, and finally we dug him up.
"It's been over 24 hours and my mum is still stuck in the rubble. I don't know if she's still alive or not. Resources are so limited, but I feel like there is a lack of organization.
Many Turks expressed anger online at what they said was a negligent emergency response in the southernmost province of Hatay, and many complained that rescue efforts had failed to reach the region.
In Hatay, the earthquake flattened several government buildings, including the local branch of Turkey's disaster relief agency, AFAD.
"I'm so angry," said analyst Gönül Tol, of the Middle East Institute in Washington. "People are trying to dig up their loved ones trapped under the rubble. It's cold, it's raining, no electricity. A family member is pinned under a heavy concrete slab, waiting for rescuers for hours. »
In Syria, the effects of the earthquake were compounded by the destruction wrought by more than 11 years of civil war. A senior UN humanitarian official said fuel shortages in Syria and harsh winter conditions were also creating obstacles to his response.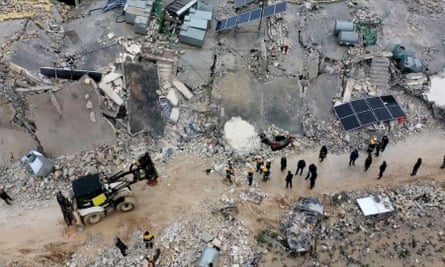 "The infrastructure is damaged, the roads we were using for relief work are damaged, we have to be creative in how to reach people…but we are working hard," the resident coordinator of the IHA told Reuters. UN, El-Mostafa Benlamlih.
In rebel-held areas of northern Syria, rescuers worked through the night to find civilians still trapped under rubble, while others tried to find shelter in the freezing rain.
"This earthquake could not have come at the worst time. The situation on the ground is that there is simply no shelter. There is nowhere to go. It is raining right now and our colleagues are on the ground trying to pull people out of the rubble amid the freezing temperatures," said Oubadah Alwan, spokesperson for the Syrian Civil Defense Forces, also known as the White Helmets. , an emergency response force trained to rescue people trapped under rubble after airstrikes.
Alwan said the Syrian Civil Defense Forces lacked the basic resources needed for rescue efforts, even down to diesel fuel to power the machinery.
"In northwestern Syria, in terms of emergency response, it's largely the White Helmets who are working. And we are just an NGO, we are certainly not equipped to deal with this level of tragedy and chaos," he said.
On Monday – speaking as the toll was estimated at 2,600 – Catherine Smallwood, the WHO's emergencies chief for Europe, said the death toll could rise eightfold from initial figures.
"We always see the same thing with earthquakes, unfortunately, that early reports of the number of people killed or injured will increase quite significantly within the next week."
Many governments have rushed to send aid, personnel and materials to help rescue efforts. Pledges of aid were received on Monday from countries in Europe, Asia and the Middle East, as well as North America. Turkey said it had received offers of aid from 45 governments ranging from Kuwait to India to Russia.
A team of 21 Greek rescuers, specializing in natural disaster management, arrived in Hatay on Tuesday morning with sniffer dogs, doctors, nurses and a special firefighting vehicle.
Syria said on Monday that aid sent after the earthquake would reach all of its people, even though Damascus does not control all of its territory.
Turkish President Recep Tayyip Erdoğan will be under pressure to oversee an effective disaster response ahead of the May 14 election.
"Everyone puts their heart and soul into their efforts, although the winter season, the cold weather and the earthquake that occurs during the night make things more difficult," he said.
theguardian
Not all news on the site expresses the point of view of the site, but we transmit this news automatically and translate it through programmatic technology on the site and not from a human editor.