USA
World News
Tim Scott's candidacy: optimistic, inspiring and very unlikely to win
I love Tim Scott. I like his story. I like his message.
But I don't like his chances.
He is charismatic, optimistic and could be a convincing presidential candidate.
But let's face it, he's a long shot for the Republican nomination now that he's announced. He didn't say a negative word about Donald Trump, the dominant frontrunner. And – to be frank – he is the only black candidate to run in a party whose members are predominantly white.
VOTERS DISLIKE BIDEN AND TRUMP – WHOSE WEAKNESSES ARE GREATEST?
But I'm glad he's in the running. Even Trump is happy to be in the running, after congratulating Scott on his announcement (and shooting Ron DeSantis again).
The main reason, as his own advisers admit, is that the more Republicans run, the more they split the anti-Trump vote and secure the former president's nomination. A Trump adviser told Politico it was "another sign that there is blood in the water for DeSantis."
Scott is not only the only black Republican in the Senate, he is only the third black senator since Reconstruction. His signature motto was "cotton to Congress", noting that his grandfather left school in the third grade to pick cotton and never learned to read or write. But the catchphrase has faded now that he is pursuing the top job.
BIDEN'S LACK OF ACCESSIBILITY 'STRENGTHENS' NARRATIVE ON HIS MENTAL FITNESS: LUCY CALDWELL
Along with his personal story of rising out of poverty, Scott speaks openly about his Christian faith and the Bible. He "adopted a preacher's tone" at his South Carolina event, according to the Washington Post, asking the crowd for an "amen" and a "hallelujah" as he walked around the stage.
He complained that the country was "sliding away from patriotism and faith" under President Biden: "I will be the president who stops the far left's assault on our religious freedom."
Scott has undeniable assets. He's a strong fundraiser with $22 million in the bank, and Oracle founder Larry Ellison said he would invest millions in the campaign. John Thune, the No. 2 Senate Republican, endorsed it.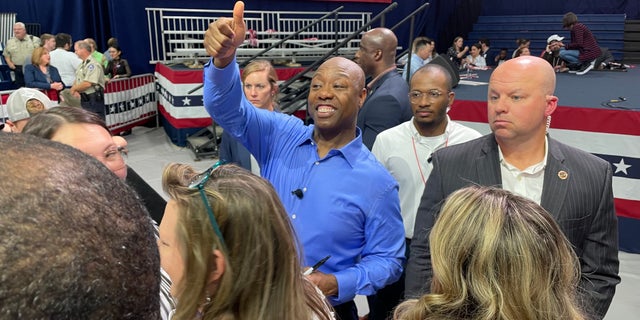 Former Republican congressional staffer John Feehery writes in The Hill: "In many ways, Tim Scott is a conventional conservative. He is pro-life, pro-faith, anti-tax and anti-regulation. he promotes his own brand of anti-government populism and he supports a robust military and America's strong hand in the international order…
"Conservatives are ready and willing to elect a black man to the White House. It just needs to be someone who shares their values ​​and their vision of a Jewish-Christian, liberal republic."
But is there room for an old-fashioned conservative in a Trumpian party? Many on the right are not on board. Jesse Watters said on Fox News that he didn't understand Scott's candidacy: "Nice guy. But nice guys finish last."
Some liberals attack Scott out of reflex. In "The View," Sunny Hostin said the senator mistakenly believes that because "he did it… anyone can do it." Whoopi Goldberg said Scott suffered from "Clarence Thomas Syndrome".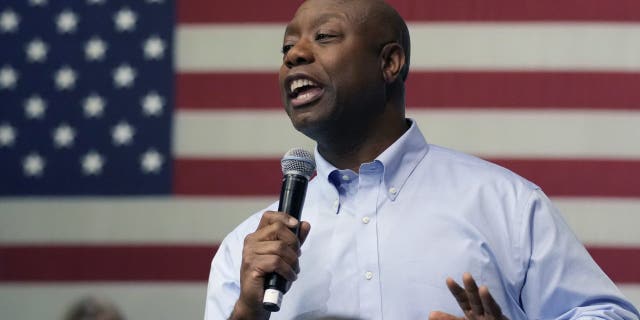 Scott fired back with Fox News' Trey Gowdy: "Meekness is not weakness. I believe in the gospel. I believe Matthew 5:44 says 'Love your enemies' – [but] if you break into my house, I also believe in the Second Amendment."
If Scott has a chance, it's luring a Barack Obama to Iowa. His victory there in 2008 convinced a skeptical public that he could beat Hillary Clinton. Scott plans to work hard in Iowa, a state that values ​​personal contact before its caucuses, for a credible finish.
SUBSCRIBE TO HOWIE'S MEDIA BUZZMETER PODCAST, A RIFF ON THE DAY'S HOTTEST STORIES
But he also has to face former Governor Nikki Haley in their home state, another early contest.
Many pundits believe Scott is actually a running mate, a choice Trump could easily make. Many politicians show up at the White House to boost their visibility and possibly end up in Cabinet, as happened with Pete Buttigieg, who won Iowa.
CLICK HERE TO GET THE FOX NEWS APP
But it's a long climb to capture the GOP nomination. A Harvard/Harris poll a few days ago put Scott's support at 1%. An earlier Rasmussen poll had it at 3%.
Scott generally gets good press as many journalists look up to him. But the rest of the country needs to find out who he is and if he has what it takes.
Fox
Not all news on the site expresses the point of view of the site, but we transmit this news automatically and translate it through programmatic technology on the site and not from a human editor.