Delaware News
This New Food Cart Will Bring Lamb Sandwiches From The Streets Of Morocco To Tucson
There's nothing quite like the night market in Marrakech, Morocco, in Tucson, but there could be. La Merguez, a pop-up that will soon open Moroccan sandwiches, brings us closer to a food cart.
You can imagine the legendary bazaar as you browse Tucson's Tanque Verde Swap Meet, dive into a corrugated iron store to buy armadillo boots, or examine retro appliances laid out on a Mexican blanket, eat spicy peanuts from a mug you have purchased. a woman at a folding table.
You can feel it in the way people spill out into backyards and avenues sheltered from the heat of a summer night. The garlands hanging between the mesquites are perhaps closest to the illuminated stalls and ornate lanterns, Morocco's signature – unless you've picked up a star-shaped, bead-studded pewter lamp from a store from Tubac or Mexico. Tucson's climate is similar to that of North Africa, down to the land's arid color palette, penetrating sun, and monsoonal terrain.
The missing element is the physical and cultural structure of the bazaar: pedestrian streets, the organizing principle of congregating in the center rather than extending further.
La Merguez is a street food vendor that seeks to bring people together like a night market, to create another portal where a different place seems possible here. The cart will sell sandwiches made with Khboz, a semolina bread baked by pop-up Holy Focaccia, and filled with the eponymous lamb patty, chicken, halloumi or a vegan vegetarian option. For dessert, we'll share a triangle of Briwat, made with filo pastry, filled with cheese and dipped in honey.
"Halloumi is definitely not traditional in Morocco, but it's something we'd love to dance to," said co-owner Zak Boucetta. "[The] typical sandwich in Morocco made with harissa tomato, lamb, zucchini or zucchini – a kind of zucchini – cooked leeks. Usually you can add peppers, toum, garlic sauce and aioli…and my favorite is stuffed with fries.
"It's a bumpier version," he said, playing around with local Sonoran ingredients and other tastes he loves. "But always respecting the traditional merguez base."
La Merguez is currently awaiting municipal inspection. They hope to open by April 21, the last night of Ramadan, the holiday of Eid al-Fitr. After they are established, La Merguez will be parked outside Che's Lounge, 350 N. Fourth Ave., three nights a week.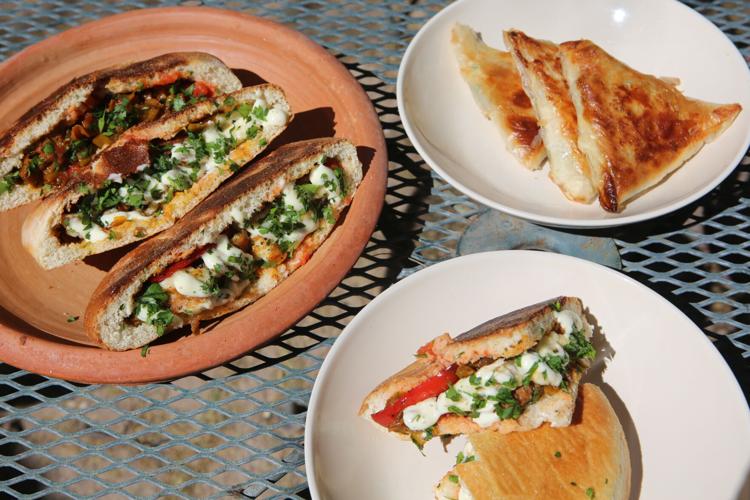 The two men behind the food cart came up with the idea on Zak's patio, after sharing a few beers and cooking for each other. They met as neighbors and forged their friendship in the kitchen and on the patio under the mesquite trees.
One night, Zak had recently brought back some harissa from Morocco, where he had grown up. Jeremy Kneller-Hernandez, the second partner behind La Merguez, loves harissa but had never eaten it like this. "[Zak] brought him directly from Morocco. I had never tasted harissa like this. I was like, oh my God, we don't even know what this is here," Jeremy said.
"When we got here we realized it was post-pandemic. Jeremy, who grew up here, told me there was this very energetic Tucson. Let's see if we can bring some energy back, compared to what the city brought in. The city has a lot of energy, a lot of culture, a collage of different ethnicities," Zak said.
Zak and Jeremy will continue to work full time in addition to running La Merguez, Zak as the architect and Jeremy as the restaurant's operations manager. But they are not intimidated by demanding extracurricular activities; instead, it gives them both a chance to create something for themselves, rather than a bigger company.
When Zak was supporting his partner, Rachael Colasanto, as she opened Holy Focaccia, he said something that continues in the La Merguez project today: "I said to Rachael, it should always be fun. A fun, naïve and creative project – no fuss, nothing overdone, something expressive about it.
Yet neither Zak nor Jeremy are naive to the restaurant industry's notorious grind.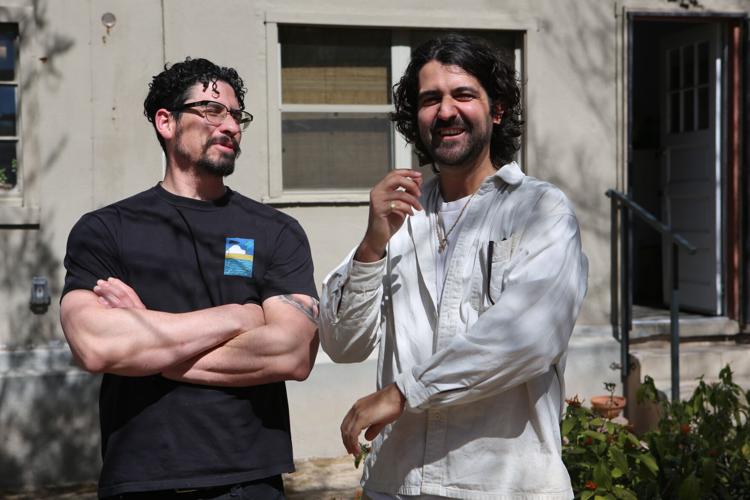 Zak grew up in his father's Vietnamese restaurant in Tangier, Morocco. "It was a Vietnamese restaurant, because my father thought a Vietnamese restaurant would do well in Tangier. It was something the city lacked," Zak said. "That's what inspired us here – we wanted to add something different."
Jeremy, meanwhile, has worked in restaurants in Tucson and Portland, Oregon, for two decades. While both partners will cook and help with the business side of things, it is Jeremy who has experience opening a restaurant.
Restaurateur Nathan Ares gave him the chance to work at Prep & Pastry when Jeremy returned from Portland, early in his recovery.
"I was a recovering drug addict for a while and I think I just have to be driven, constantly, you know… Nathan A., he's my mentor, you know, he took me as a bus and when I was just getting clean, getting back on my feet and he gave me a chance," Jeremy said. "I just grew and grew and grew and literally worked and worked and worked and learned to find a balance with life and, you know, to live again," he said.
When it comes to navigating the economic side, paperwork and bureaucracy of the city, Jeremy's experience helps the team deal with the inevitable unexpected – a benefit that might seem minor to those who have never tried to open a new food concept.
"I don't know if it's chaos inside of me, but I'm more comfortable when the restaurant is on fire. It takes a few of us to accept that feeling to get through it. said Jeremy.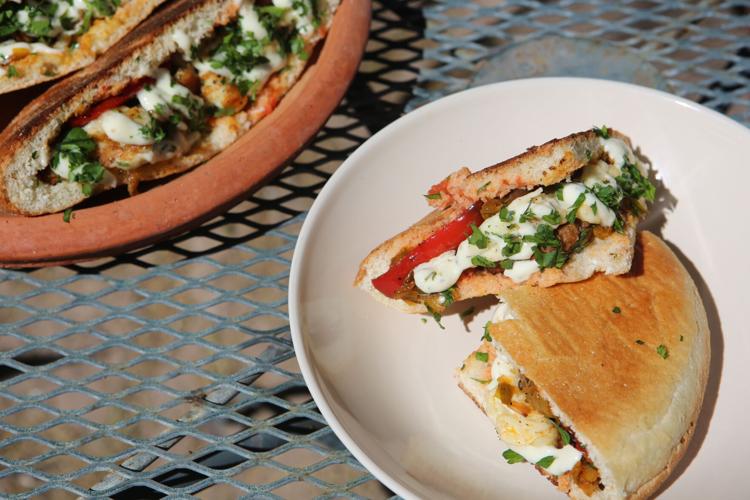 All food at La Merguez will be halal, including the meats the couple source from local markets like Al Basha. Jeremy is neither Moroccan nor Muslim – his mother is Jewish, from Queens, New York. "We had to go to a specific store to get this kosher meat, this kosher food. There is a void in this market [in Tucson]," he said.
We have a few Halal restaurants: Al Madina Halal Kitchen, which started as a ghost kitchen, or Caravan Grill. Given the breadth of halal food, crossing countries and cuisines around the world, Tucson could use much, much more. La Merguez will capture a tiny part of Moroccan cuisine.
Rachael prepares the Khboz in Zak's memory of what Khboz should be. The recipe has gone through several iterations. When I sampled the menu a few weeks ago, they hadn't quite landed on the right amount of protein in their flour, but they were close.
That's what La Merguez is all about, tinkering with these recipes until they taste like home. "I miss the merguez sandwiches," Zak said. "It's like, for me, it's also, I miss it."
"First steps are fun and meant to be enjoyed. We don't want to make it stressful – we want to have fun with it," Zak said.
"We hope the Tucson audience will love it too," Zak said.
"[But] otherwise we will continue to make sandwiches for ourselves," Jeremy said.
Follow La Merguez on Instagram for more details on opening dates.
Delaware
Not all news on the site expresses the point of view of the site, but we transmit this news automatically and translate it through programmatic technology on the site and not from a human editor.