USA
World News
Strictly Come Dancing: Week Nine – Live | Television
Key events
Molly's timing is fabulous as always, but everything feels a little messy and clunky in the transitions, and her retractions could pack more punch. Great fun, but I don't think that was his best dance.
Then it's Molly and Carlos!
This week, they're dancing the Jive to Barry Manilow's "Bandstand Boogie." It's a pretty old-fashioned Jive track for Molly, which I expected to use a bouncy pop track to please the yoof, but we can assume Carlos knows what he's doing. Did he bring precision kicks and flicks to Blackpool?
Rides! BEVERAGE.
Sam Ryder makes the terms and conditions! Can confirm that he really is that nice.
At least two other mentions of this bloody floor. It's suspended, in case you were wondering.
Hamza and Jowita – 38
Scores: 9,9,10,10 – a total of 38 for Hamza and Jowita. Well, the bar is high for the evening.
Shirley thought Hamza shone brighter than all the beads, bracelets and trinkets in the world. She also loved the footwork and the details. Anton found it magnificent, and it was the dance he would have loved to do. Craig didn't like the jazz solo section, but everything else was spectacular. Motsi liked the control of Hamza.
Another 10/10 for Motsi's hair. It sounds amazing.
Ooh, superfluous backing dancers with giant feathers. I feel like I need an extra pair of eyes for all of this – it's hard enough to get one eye on the TV and one on my laptop, without all the extra Blackpool gubbins.
As expected, it's all kinds of fabulous and stylish stuff, and there's really no style that Hamza can't dance to. Jowita looks like a frozen swan and the lifts are amazing. I loved it.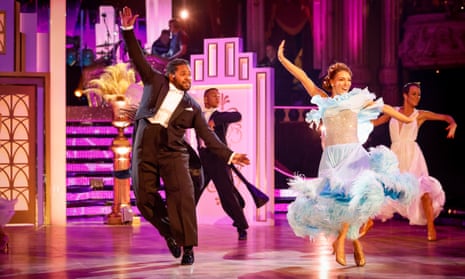 First tonight is Hamza and Jowita!
This week they're dancing the American Smooth to Frank Sinatra's 'New York, New York'. I feel like we all expect this to be pretty epic, even by Hamza standards.
I watched their Afrobeat Couple's Choice SO many times this week. On closer inspection (quite difficult when you're in the studio) it was actually quite messy in many places, but dozens all around for sheer joy.
Bring out the stars! Helen appears to be dressed as one of those picnic blankets with a waterproof backing. Very popular with people watching Gary Barlow at one of the most civilized festivals. Very here for Tyler's giant, though.
I feel like everyone is a little excited. Regarding the quality of the dance, please adjust your expectations accordingly.
TESS AND CLAUDIA DRESS WATCH!
Tess in Kermit the Frog, Claudia in Fraggle Rock. LET THE MUSIC PLAY.
Mention first floating floor! BEVERAGE!
Since Blackpool is technically a quiet week, we get a bonus opening dance that celebrates…all things Blackpool. Plastic raincoats all around – god they must be sweaty.
Shirley arrives dressed in toffee finger, followed by Motsi in leopard print lycra. Loving every bit of this cheerful camptastic nonsense, more please.
Here we go ! The people of Blackpool are delighted to have Strictly back, and the stars of Strictly are delighted to be here. Everyone stares at the ceiling of the Blackpool Tower Ballroom as if it were the Sistine Chapel of the North. Oh, that's nice. Welcome to Blackpool, everyone!
Do me a favor while I take a brief moment to shamelessly plug in my new book, which comes out Thursday. He even includes a big thank you to you in the acknowledgments, because I'm nice like that.
Come strictly Blackpool Bingo!
Take a sip of something delicious for any occurrence of the following
Anton grows nostalgic for Blackpool's bygone days

Anyone advising us of the size of the tower ballroom

Any mention of the floating floor

VT with fairground rides or consumption of crisps

Real Bingo Mentions
Things are heating up in Heidi's Hunches…
Now that Tony is gone, it's anyone's game – except for Hamza, I don't think there are any determined finalists this year. Everyone's had a bad week, and I can't say for sure that any of our celebs are ahead of the rest in terms of ability or popularity. How exciting is that? That said, here are my predictions as we enter the final five weeks of the competition:
Fight for the final: Will and Nancy, Hamza and Jowita, Helen and Gorka, Molly and Carlos

hot on their heels: Flower and Vito, Kym and Graziano

Dodge the dance: Tyler and Dianne, Ellie T and Johannes
Some of you are asking me about my time at the Strictly studio last week. You know I was back on the blog on Sunday, right? If you open last week's blog, the second half is all me.
Anyway, just for latecomers – it was lovely. I had a very fun time, but also very happy to be back on my couch in my pajamas.
Every week I try to watch a bit of The Wheel with sound. Lasted a good four minutes this week, which is a record.
It's the Strictly Blackpool Special!
Good evening everyone and welcome to this week's Strictly liveblog! It's week nine, which means packing our glittering bags and heading north to the bright lights and bingo halls of Blackpool. Gird your loins for superfluous dancers, dozens shaken like a seagull in a bag of chips, and our Strictly pro dances become nostalgic for when they won their first competition in the legendary tower ballroom. See also: Antoine.
It's the first time we've returned to Blackpool since 2019, when Michelle and Giovanni Vogue retired from competition for good. Whose time is up this week? Grab some beachside snacks and prepare for some joyous viewing – incidentally, in 2018 I wrote "Think of it as a warm blanket of predictability and comfort while the country burns around us". Four years later and absolutely nothing has changed, so I guess that's a reassuring constant in our lives right now.
See you at 7:45!
theguardian
Not all news on the site expresses the point of view of the site, but we transmit this news automatically and translate it through programmatic technology on the site and not from a human editor.