USA
World News
Search for fugitive Pennsylvania killer hiding in the woods drives schools to close
Two school districts near Philadelphia closed their campuses on Tuesday after a fugitive killer was spotted on surveillance cameras walking through nearby woods and public spaces, authorities said.
The latest footage of Danelo Cavalcante, a 34-year-old killer who escaped custody on Thursday, was captured Monday night by a surveillance camera at Longwood Gardens, a public plaza in Chester County, officials said.
"I am convinced that he will make a mistake. He did it here, walked into a surveillance camera, unknowingly," State Police Lt. Col. George Bivens told reporters on Tuesday.
Cavalcante escaped from Chester County Jail in Pocopson Township. His method of breaking through the prison barriers was part of an ongoing investigation.
More than 200 law enforcement officers have searched for the killer in recent days, according to Bivens. The FBI was helping, he said.
US Marshals Service surveillance officer Robert Clark said a $10,000 reward consisting of money from his agency as well as the Chester County government is available to anyone whose tip leads to capture of Calvalcante.
With the convict still at large, the Unionville-Chadds Ford and Kennett Consolidated school districts both said there would be no on-campus instruction Tuesday.
The Unionville-Chadds Ford School District asked students to check in with teachers via Google Meet on Tuesday morning, ahead of their "Flexible Teaching Day (FID)."
The Kennett Consolidated School District announced that all campuses and offices would be closed Tuesday "as a precaution."
Cavalcante is also wanted in a murder case in his native Brazil and police recorded a message from his mother in Portuguese, begging her son to turn himself in.
Helicopters and police cars patrolling search areas broadcast the sound in hopes Cavalcante hears it and heeds his mother's advice, officials said.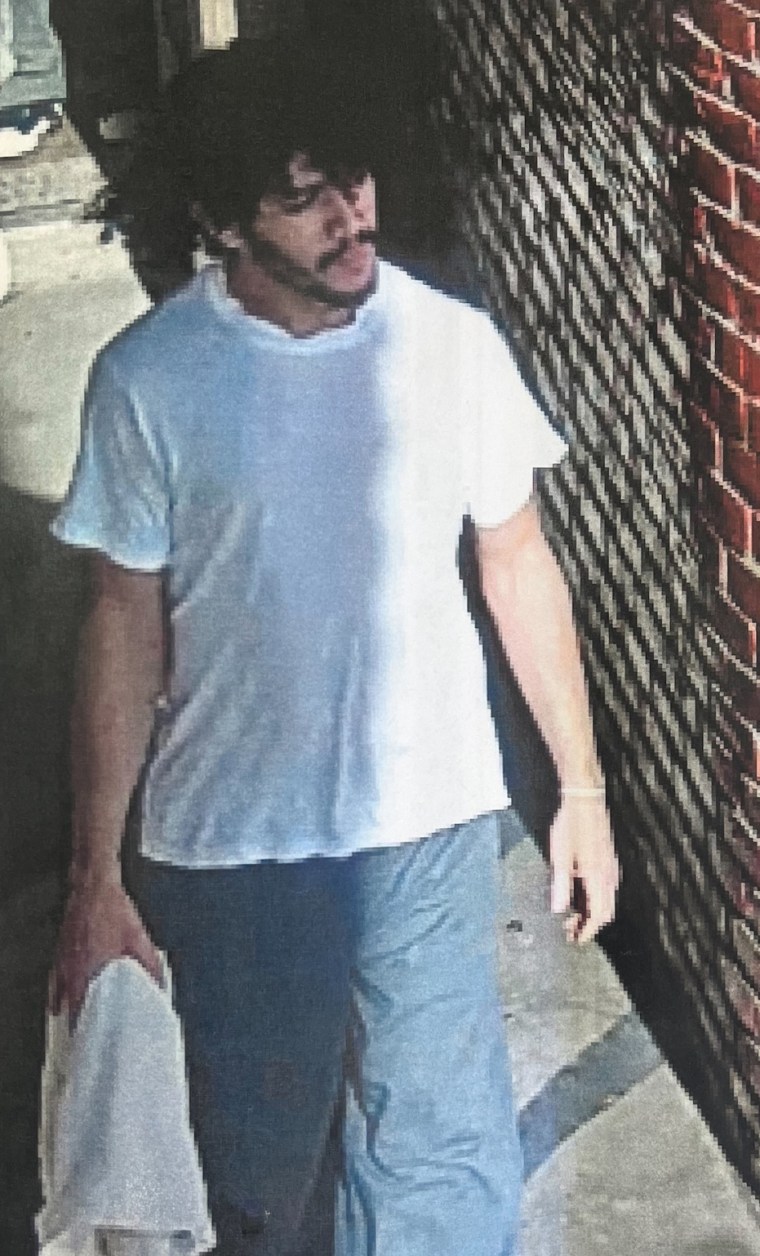 Investigators are in contact with several relatives and friends of the escapee, hoping to uncover any clues as to where Cavalcante might be hiding or looking to go.
"Rest assured that all family members, friends, associates, contacts even in prison, we have checked all of these things and we continue to hunt them for anything that might be useful," Bivens said. .
Researchers are struggling to navigate the thick terrain where they believe Cavalcante is hiding.
"What you have are significant patches of woodland with lots of undergrowth, so thick that our researchers can't get more than a few meters apart, where they sometimes get lost in sight" , Bivens said.
"There are many places where someone can hide."
In the latest images of Cavalcante, he has not done anything that would significantly alter his appearance, police said.
But he has recovered a backpack, a "shoulder-type duffel bag" and a hoodie since his escape, Bivens said.
Investigators believe Cavalcante broke into a car or home to retrieve those supplies.
"He's clearly in escape mode and he's desperate," Bivens said.
Amid the manhunt, authorities were investigating possible failures or weak spots in facilities that may have contributed to the escape. It was too early to say exactly how Calvalcante fared, the lieutenant colonel said.
On May 19, another inmate, identified as Igor Bolte, 30, allegedly climbed over a wall in the exercise area and walked out of the Chester County facility while a guard was distracted by an argument over a nearby basketball court, according to court records.
Bolte, who was captured in town about an hour later – drenched after a dip in an area pool – told investigators he used his rock climbing skills to scale the wall, the documents show. The detainee will be tried on October 9 for his alleged escape and is presumed innocent.
A county spokesperson said it was too early to tell if Calvalcante's and Bolte's actions were similar, repeating only that an investigation into the latest violation was ongoing.
Police on Tuesday reminded residents several miles from the Chester County Jail in Pocopson Township to lock cars and all other doors, especially those to latrines, supply sheds and other buildings located away from their primary residence.
"It's important that we keep the pressure on him as we continue this hunt," Bivens said. "We are pressuring him not to give him the luxury of rest."
Cavalcante was convicted of first-degree murder on August 16 for fatally stabbing a 33-year-old former girlfriend and sentenced to life in prison without the possibility of parole.
nbcnews
Not all news on the site expresses the point of view of the site, but we transmit this news automatically and translate it through programmatic technology on the site and not from a human editor.