USA
World News
Russian leader Wagner says more than 20,000 of his soldiers died in the Battle of Bakhmut
The leader of the Russian mercenary group Wagner said he lost 20,000 fighters in the Battle of Bakhmut.
The figures stood in stark contrast to Moscow's widely disputed claims that just over 6,000 of its soldiers had been killed throughout the war in January. By comparison, official Soviet troop casualties in the 1979-89 Afghan War were 15,000.
Yevgeny Prigozhin said around half of those who died in the eastern Ukrainian town were Russian convicts recruited for the 15-month war.
Related Articles
Wagner boss Yevgeny Prigozhin accuses army of leaving Bakhmut's flanks exposed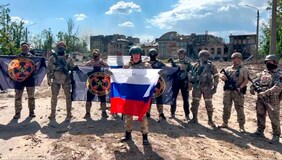 Wagner will leave Bakhmut by June 1 and transfer control to the Russian military
Ukraine has not said how many of its soldiers have died since the full-scale Russian invasion began in February 2022.
White House officials said Wednesday that Prigozhin's comments were consistent with their own estimates that Russian casualties have accelerated. The White House estimated this month that Russian forces had suffered 100,000 casualties, including 20,000 killed in combat, since December. White House National Security Council spokesman John Kirby said at the time that about half of those killed were Wagner forces.
Analysts believe many of those killed in the nine-month fight for Bakhmut were Russian convicts with little military training.
Prigozhin – himself a former convict – has frequently criticized Russian military officials for not providing his troops with enough ammunition. He also questioned their tactics, commitment, and leadership abilities, and complained that they did not give his forces enough credit for battlefield successes.
He highlighted the sacrifices of his forces and on Saturday boasted of what he claimed was the capture of the town of Bakhmut.
In an interview published Tuesday evening with Konstantin Dolgov, a pro-Kremlin political strategist, Prigozhin went even further in his criticism – questioning some of Russian President Vladimir Putin's motives for the war. Prigozhin said Russia's goal of "demilitarizing" Ukraine has backfired because kyiv's military has grown stronger with Western weapons and training.
In invading Ukraine, Putin also cited the need to increase Russia's security and prevent Ukraine from joining NATO. Since the start of the war, Ukraine has asked to join NATO and cross-border attacks against Russia itself have increased.
In Washington, Kirby speculated Wednesday about Prigozhin's motives. "And it's possible that this is sort of a morbid way on his part…claiming credit for all that they were able to accomplish in Bakhmut, but also trying to publicly embarrass the Ministry of Defense by claiming that the cost has was borne in blood and treasure by Wagner, not by the Russian army.
In the interview, Prigozhin also took issue with Moscow's vehement denials that Russian forces had killed civilians.
In what it says is likely a low estimate, the United Nations High Commissioner for Human Rights says that from February 2022 to early April 2023, it recorded 22,734 civilian casualties in Ukraine: 8,490 killed and 14 244 injured.
Prigozhin, a wealthy businessman with long-standing ties to Putin, is known for his bluster – often laced with profanity – and has previously made unverifiable claims that he later backtracked.
Earlier this month, his media team released a video of him shouting, swearing and pointing at around 30 uniformed bodies on the ground, claiming they were Wagner fighters who died in a single day. He claimed that the Russian Ministry of Defense had deprived his men of ammunition and he threatened to give up the fight for Bakhmut.
Prigozhin has frequently warned of a counteroffensive that Ukrainian officials said they were planning, and in Tuesday's interview he said that, given continued Western support, Kyiv forces could successfully push back. Russian troops from all the territories they occupy in southern and eastern Ukraine. , as well as the annexed Crimea.
"A pessimistic scenario: the Ukrainians receive missiles, they prepare troops, of course they will continue their offensive, try to counterattack," he said. "They will attack Crimea, they will try to blow up the Crimean bridge (to the Russian mainland), to cut (our) supply lines. Therefore, we have to prepare for a hard war.
Prigozhin's admission of heavy losses seems to show the impact of Ukraine's strategy. Ukrainian officials have said their goal in Bakhmut is to wear down and wear down Russian forces, distract them from protecting territory they occupy elsewhere and buy time for more Western weapons and ammunition. arrive and training is over.
Russia's largest state-run, pro-Kremlin outlet did not report Prigozhin's interview, which was posted on a Telegram channel with just 50,000 subscribers, making it unlikely to be widely broadcast in Russia. Neither did Russian military bloggers, whose popular Telegram pages are important sources of war news for many Russians.
On the battlefield, Ukraine's general staff said on Wednesday that "heavy fighting" continued inside Bakhmut, days after Russia claimed it had completely captured the devastated town. Bakhmut is in Donetsk province, one of four that Russia illegally annexed last fall and only partially controls.
Ukrainian ground forces chief Oleksandr Syrskyi said Kyiv forces were "continuing their defensive operation" in Bakhmut, with unspecified "successes" on its outskirts. He did not specify.
A Ukrainian commander in Bakhmut told The Associated Press on Tuesday that the Ukrainians planned to trap the Russians.
"Now we don't need to fight in Bakhmut anymore. We have to surround it from the flanks and block it," Yevhen Mezhevikin said. "Then we should 'sweep' it. It's more appropriate, and that's what we're doing now.
Elsewhere, other attacks continued in a border region that Russian officials said had calmed down after one of the worst incursions since the start of the war. Russian forces shot down "a large number" of drones in the Belgorod region of southern Russia, a local official said on Wednesday, a day after Moscow announced that its forces had crushed a cross-border raid from the Ukraine.
The drones were intercepted overnight, Belgorod Governor Vyacheslav Gladkov said on Telegram, and another was shot down just outside the regional capital, also called Belgorod, on Wednesday. He said no one was injured, but property was damaged.
Ukrainian officials had no immediate comment. In Moscow, Russian Defense Minister Sergei Shoigu pledged to respond "quickly and extremely harshly" to such attacks.
Details of the incident in the rural region, about 80 kilometers (45 miles) north of the city of Kharkiv in eastern Ukraine and far from the front lines of the war, are unclear.
Moscow blamed the incursion on Ukrainian military saboteurs. kyiv described it as an uprising against the Kremlin by Russian supporters. It was impossible to reconcile the two versions, to say with certainty who was behind the attack or to know its objectives.
The area is a Russian military hub housing fuel and ammunition depots. The Belgorod region, like the neighboring region of Bryansk and other border areas, has experienced sporadic fallout from the war.
With agency contributions.
Read all Latest news, New trends, Cricket News, bollywood news,
India News And Entertainment News here. Follow us on Facebook, Twitter and Instagram.
firstpost
Not all news on the site expresses the point of view of the site, but we transmit this news automatically and translate it through programmatic technology on the site and not from a human editor.