USA
World News
Rishi Sunak chairs cabinet ahead of release of plan to speed up removal of some asylum seekers – British Politics Live | Policy
[ad_1]

Key events
Sunak to make statement to MPs on plans to tackle illegal immigration
Rishi Sunak will make a statement to MPs today on tackling illegal immigration, sources told reporters. This will be the announcement advertised in the Times. (See 9:28.)
Mick Lynch accuses BBC of bias as he defends RMT strike in morning interview
Here are the outlines of Mick Lynchmorning interview round.
Lynch, the general secretary of the RMT, insisted that his union was not opposed to reforming working practices on the rail network. "We're not opposed to change, we deal with it all the time," he told BBC Breakfast. But he said there had to be "negotiated change, not imposition".
The government is prepared to bear a loss of perhaps £320m so far so that they can subsidize this dispute so the incentive is not with the train operating companies to settle this because 'they were ordered not to settle by the government.
The RMT frequently complains that the railways have no incentive to settle the dispute under their current funding structure. Ed Conway, Sky's economics editor explained it well in a Sunday Times column over the weekend.
The RMT union is supposed to negotiate wages and conditions with the Rail Delivery Group, which represents rail operating companies. It might have made sense for these two sides to face each other a few years ago, when franchisees had a say in these matters. At the time, it was up to them to absorb the cost of rising wages, and every day lost due to strikes reduced a portion of their profits.

Nowadays, however, the franchise system has been replaced by "passenger operating contracts", which is a bit of a long way of saying "nationalisation", since Whitehall ultimately decides almost everything and takes the financial hit. "We can't fart without permission," as one seasoned train operator put it.

The result is that the companies operating the trains have less incentive to improve their service and little punishment when things go wrong. They don't really suffer when there is a strike, so why are they bargaining?
We don't like to disturb the public and apologize for the disruption caused. I believe we could have worked on a settlement a few weeks ago until it was undermined by the position some people have taken.
He refused to admit that the result of the vote by Network Rail's RMT members, who yesterday rejected the pay offer by 64%, was disappointing. A previous majority against the settlement was higher. But Lynch said:
Two-thirds were unwilling to accept it in a very simple democratic vote with a very high turnout.

And the Network Rail company made a big effort. They sent all their managers to depots and stations, they made special films, they did a lot of communications to try to get our members to accept this, and our members resisted very strongly.

There will always be a group of people who will want to settle on the first try, but they also showed by a vote on the strike mandate that we had a few weeks, three or four weeks ago and this last referendum, that they are willing to stay behind the dispute to get a settlement they can support.
We still have plenty of time before Christmas Eve though [Network Rail chief executive] Andrew Haines and the railway operating companies, Huw Merriman, the Minister of Railways, and Mark Harper, the Secretary of State, want to come to me with a series of serious proposals to improve their offer so that we can get a settlement of the dispute, we'll come to see them as soon as possible.

They have already invited me to a series of talks and we will be there to try to get this dispute resolved. And when our members decide they want to accept it, that's when the conflict will be over.
Lynch accused Today presenter Mishal Husain of repeating right-wing propaganda when she asked him how much his members were losing in pay because of the strike. In response, he said:
It depends on what shifts they were working, what rate of pay they earn and how many chances they have to go out.

What I find annoying though, Mishal, is that you put these lines that are straight from the propaganda on the other side. You never show admiration for the fight that the workers of this country are waging to rebalance our society.

You never criticize the super-rich for what they do to nurses, what they do to postal workers, and you never seem to take an unbiased look at the current balance of this society with the total lack of distribution of wealth in our society.

You always seem to reject everything you receive from employers and government, and that's what I hear straight through the BBC filter this morning.
On ITV's Good Morning Britain, Lynch also had a wave with presenter Richard Madeley. He told Madeley:
We're not aiming for Christmas, it's not Christmas yet, Richard, I don't know when your Christmas starts but mine starts on Christmas Eve.
When Madeley told him that commercial Christmas starts in December, Lynch replied, "Richard, why don't you interview yourself?"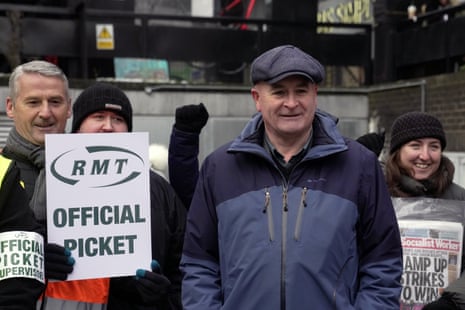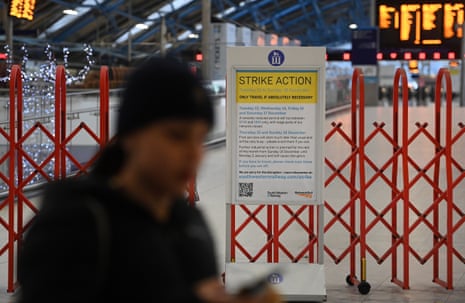 Transport Secretary Mark Harper says public opinion is turning against RMT over rail strikes
This morning Mark Harper, the transport secretary and Mick Lynch, the general secretary of the RMT, both gave interviews. Their demands have been well-rehearsed – it's a months-long dispute, after all – but as it reaches the point where passengers are going to be more embarrassed than ever, the competition for public support becomes more intense.
In an interview with Times Radio, Harper said public opinion was turning against the RMT. Referring to the result of a poll of its Network Rail members announced yesterday, Harper said:
[The RMT] had a fair and reasonable offer, which was accepted by Network Rail's Unite staff, the TSSA recommends acceptance of that offer, it's just the RMT recommending that it be refused. But even though they recommended rejection, almost 40% of their staff actually voted for it. So I think the tide is turning on public opinion.
But the evidence for Harper's claim is limited. Recently, YouGov released a poll suggesting that a plurality of voters oppose the strikes.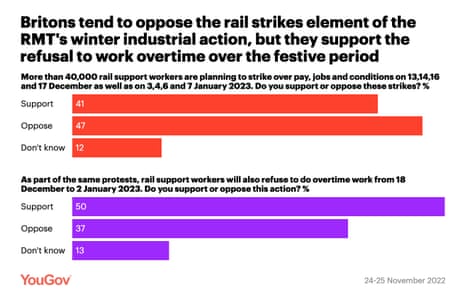 Over the summer, a separate Ipsos poll found that the public was split 50/50 (or 35% to 35%, to be precise) on whether they supported the rail strikes, and the difference between the two sets of results could support Harper's case. But, even on the latest YouGov figures, support for the RMT is high by historical standards, and support for railway workers allowed to strike has actually increased over the past three years, according to a YouGov tracker.
In his interviews this morning Lynch said his union still enjoys public support.
Sunak chairs cabinet ahead of planned release of plan to speed up removal of some asylum seekers
Hello. The first of four nationwide 48-hour rail RMT strikes, which were expected to cripple the network over the festive period, has begun. Given the impact these strikes will have on non-strike days and other scheduled Christmas closures, one estimate is that train services will not return to normal for another month.
This is my colleague Julia KolleweAccount of the situation of travelers this morning.
And here Happy JasperThe corporate blog of , which talks about it in more detail.
Cabinet is meeting this morning. Politics is dominated by strikes, but The Times reports that Rishi Sunak could announce his latest plan to reduce the number of small boat crossings as early as today. In their story matt datan and Stephen Swinford say:
The Prime Minister is expected to announce the first tranche of his strategy to tackle illegal immigration on Tuesday amid warnings from Tory backbenchers that the party will be defeated in the next election if it fails to address the issue . The announcement is expected to include a fast-track process for assessing applications from a list of "safe" countries such as Albania.

Sunak is set to announce that all asylum claims from countries on a Home Office "white list" will be automatically rejected unless the individual can provide evidence that their claim is justified, proposals that were first revealed by The Times earlier this month.

Government sources said there are plans to merge the process for assessing asylum claims and modern slavery, as part of efforts to prevent failed asylum seekers from 'gaming' the system by claiming be victims of modern slavery at the last minute to avoid deportation.
Sunak desperately needs something that will earn his government some credit with voters given all the other issues he faces, even if it will do remains to be seen. Yvette Cooper, the shadow interior secretary, has already announced her own plans to fast-track asylum claims from countries like Albania, and that will make it harder for Sunak to argue that the Tories do something distinctive.
Here is the program for the day.
9:30 a.m.: Rishi Sunak chairs the cabinet.
10 a.m.: Ofsted publishes its annual report.
11:30 a.m.: James Cleverly, the Foreign Secretary, answers questions in the Commons.
After 12:30 p.m.: MPs are debating the remaining stages of the upgrade bill.
12:45 p.m.: Tom Tugendhat, the Minister of Security, delivers a speech to the Policy Exchange think tank on defending democracy. The annual report of the House Intelligence and Security Committee is also due out sometime today.
2 p.m.: Wes Streeting, the shadow health secretary, makes a phone call on LBC.
2:30 p.m.: Grant Shapps, the Business Secretary, testifies before the House of Commons Business Committee.
Afternoon: Peers vote on a Lib Dem motion that would block regulations introducing voter identification for elections.
I try to monitor comments below the line (BTL) but it's impossible to read them all. If you have a direct question, include "Andrew" somewhere and I'm more likely to find it. I try to answer questions, and if they're of general interest, I'll post the question and answer above the line (ATL), although I can't promise to do this for everyone.
If you want to get my attention quickly, it's probably best to use Twitter. I'm on it @AndrewSparrow.
You can also email me at andrew.sparrow@theguardian.com.


[ad_2]
theguardian
Not all news on the site expresses the point of view of the site, but we transmit this news automatically and translate it through programmatic technology on the site and not from a human editor.