The children who were struck and killed Monday near their elementary school in Riverdale Park, Maryland, were ages 5 and 10, authorities said amid grief and horror in the community.
The victims were Sky Sosa, 5, and Shalom Mbah, 10, who both lived in Riverdale, Prince George's County police said Tuesday. Sky's father, Franklin Sosa, was struck and injured.
"Two families, friends, are without their children today, as we prepare to give thanks for all the blessings bestowed upon us," Police Chief Malik Aziz said at a press conference .
The victims' families and the school community are suffering an "unimaginable loss," said Prince George's County Public Schools Superintendent Millard House II. "Our hearts hurt."
Flowers, stuffed animals and candles were left near the scene of the deadly accident.
Police share new details about what happened outside Riverdale Elementary School
Police shared new details Tuesday about what happened outside Riverdale Elementary School. According to the initial investigation, the children and man were crossing Riverdale Road at a crosswalk when a woman driving a Ford pickup truck south on Taylor Road turned left onto Riverdale. The van struck the three people.
"I could hear it take off," Sky's father said. "I turned to her. That's when it hit me. When she hit me, I could see her face. I hit the van, but it continued and accelerated. I fell sideways and turned around as she continued to accelerate. I saw the van lift up as it hit the kids…and that's when it destroyed my heart.
Sky's mother, Laura Palacios, rushed to the scene.
"I ran to the school as quickly as I could to find my son lying on the floor," she said. "He was holding it. I saw the little girl first, who was in the middle of the crosswalk, and all the blood. When I saw that, I just screamed because I didn't see my son first. I saw it second.
A woman who saw the aftermath of the accident described a heartbreaking scene. News4's Paul Wagner reports.
Officers from the Prince George's County Police Department and Riverdale Park Police responded around 8 a.m. and attempted to save the children. They were rushed to hospital, where they died.
Franklin Sosa suffered injuries to his legs and neck. The driver of the van was not injured.
"I won't be able to see his smile or his eyes anymore," Sky's mother said. "And every morning, you know, we would get a morning hug before he went to school."
"He's the one who made our house, our home," she said. "You know, I have two other children. My oldest, two older, but Sky, he just finished us.
People close to the school described a heartbreaking scene.
"I ran to see what happened and I saw a little girl lying in the street, then a father with his boy in his arms. The boy was hurt. He was asking for help. All this was so sad," one woman said. told Telemundo 44 in Spanish.
"I cry for the babies," another woman said, holding back tears.
Crisis counselors are available at school and virtually, House said. Classes have been moved online for Tuesday.
The police department's Collision Analysis and Reconstruction Unit will investigate and the findings will be "forwarded to the Prince George's County State's Attorney's Office for consideration of criminal charges," police said in a statement. The investigation could take months.
The driver is not in custody, Aziz said. Police are reviewing video footage.
"I'm trying to think it wasn't intentional, it couldn't be intentional, you know," Palacios said. "Unfortunately my son and the other little girl lost their lives, so she's going to have to live with that."
There were no crossing guards at the intersection at the time of the accident, Aziz confirmed. He said he wasn't sure having a crossing guard would have made a difference.
"In all likelihood, adults – crossing guards or not – would very likely, with high probability, have been hit as well," Aziz said.
The longtime crossing guard has retired and the police force, which hires crossing guards, is working to fill the position, Aziz said. The police department hires school crossing guards for positions that pay between $17.22 and $26.93 an hour, with benefits. "Help us keep our children safe," one flyer says.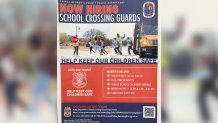 Parents told News4 the woman who hit the children ran a school bus company. Aziz declined to say whether that was accurate.
Anyone with potentially relevant information is asked to contact police. Tipsters can remain anonymous.
Stay with NBC Washington for more details on this developing story.


Gn En Hd