Madi Kingsbury

Spring has arrived and that means the wildflowers are ready to bloom. Tucson is lucky this time of year as we can see all kinds of flowers popping up thanks to the large amount of rain we received in late 2022.
Theresa Crimmins, a professor in the School of Natural Resources and Environment at the University of Arizona, said the odds of spotting these colorful blooms this spring seem good given the substantial amount of rain we have. received in fall and winter.
"Good rains are important not only for large amounts of flowers, but also for seeing a greater diversity of species in bloom," she said in an email.
As we enter the spring season, wildflowers are beginning to appear in various locations around Tucson. Wildflowers have already been spotted by Tucson locals in areas like Picacho Peak north of Tucson and Altar Valley west of Tucson.
There are many types of wildflowers we'll see this season – Crimmins says she's already seeing penstemons, bahias, desert marigolds, globemallows, brittlebush and many types of cacti blooming in her own yard.
"Poppies, lupines and owl clover are very common annuals in years when conditions are good like this year and are likely to be common," she says. "I also see senna, creosote bushes and even Texas rangers blooming around town."
Tucson residents can expect to see wildflowers bloom over the next few weeks. Different types of wildflowers have different bloom times and life cycles, but there will be plenty to admire over the next couple of months as spring rolls on.
"Wherever plants are allowed to be themselves," says Crimmins, that's where you can find the flowers.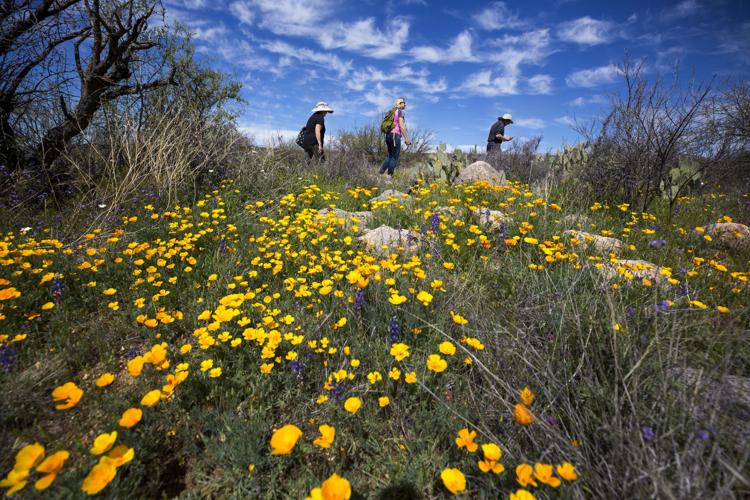 Some of the best places to see these beautiful creations that nature gives us are in state and national parks, as well as botanical gardens.
The Tucson Botanical Gardens, 2150 N. Alvernon Way, and the Arizona-Sonora Desert Museum, 2021 N. Kinney Road, have previously shared social media posts showing off their blooms, and you can also see color in Sweetwater Preserve. Saguaro National Park and Organ Pipe Cactus National Monument also see flowers sprouting in some areas.
Catalina State Park has yet to see the arrival of wildflowers, other than a few patches along the Bridle Trail and the Nature Trail. Catalina State Park Superintendent Steven Haas told the Arizona Daily Star to give him about a week or two for more wildflowers to debut.
To find out when other wildflowers will start to appear, check out these resources:
The Arizona State Parks website is updated with the status of wildflowers in places like Picacho Peak State Park, Catalina State Park, and Lost Dutchman State Park .
Instagram accounts like Wildflower Watch AZ show what's blooming in the state right now.
Madi Kingsbury is a senior at the University of Arizona, where she is studying journalism. She is apprenticed with #ThisIsTucson for the spring semester.
Delaware
Not all news on the site expresses the point of view of the site, but we transmit this news automatically and translate it through programmatic technology on the site and not from a human editor.