USA
World News
On this historic day, May 26, 1907, iconic actor John Wayne was born in Iowa
On this historic day, May 26, 1907, John Wayne, the iconic actor known for embodying the American West, was born in Winterset, Iowa.
Named Marion Robert Morrison, six-year-old Wayne moved with his family to Glendale, California, according to History.com.
As a teenager, he delivered newspapers in the morning, while after school he played football and made deliveries for local stores.
ON THIS DAY IN HISTORY, MAY 25, 1935, BABE RUTH DOES HOME RUN NUMBER 714
It was while living in Glendale that he acquired the nickname Duke, says John Wayne's official website.
The Duke family dog, an Airedale, was his constant companion. Local firefighters knew the dog's name and also started calling the young man "Duke".
The name has remained, specifies the same source.
After graduating from high school, Wayne hoped to attend the US Naval Academy, but when that school rejected him, he accepted a full scholarship to play football at the University of Southern California in Los Angeles, notes History.com.
In the summer of 1926, Wayne's football coach set him up with a job as an assistant prop on the set of a movie directed by John Ford, the same source says.
"Ford began using Wayne as an extra, and he eventually began to cast him in bigger roles. In 1930, Ford recommended Wayne for Fox's epic western, 'The Big Trail.' Wayne won the role, but the movie went bad and Fox let his contract expire," according to History.com.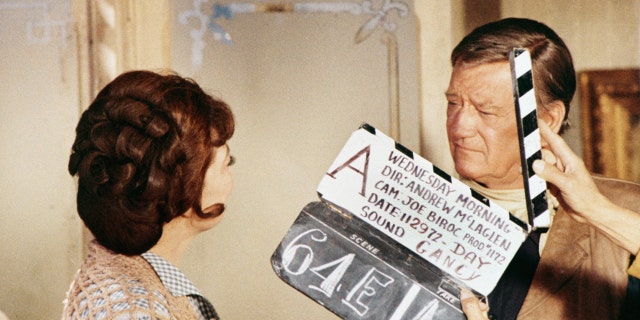 Over the next eight years, he starred in more than 60 low-budget films, mostly in roles as cowboys, soldiers and other rugged men of adventure, Britannica says.
Wayne achieved true "star status" when Ford cast him as the "Ringo Kid" in the classic western "Stagecoach" in 1939, the same source points out.
"After that film, her place in American cinema was established and grew year by year," says Britannica.
"In all of these films, The Duke embodied the simple, even simplistic, cowboy values ​​of decency, honesty and integrity."
With the release of the film "Stagecoach", Wayne's career expanded.
ON THIS DAY IN HISTORY, MAY 10, 1977, ICONIC AMERICAN ACTRESS JOAN CRAWFORD DIES IN NEW YORK
Among the dozens of Westerns he appeared in – many directed by Ford – were such memorable classics as "Tall in the Saddle" (1944), "Red River" (1948), "Fort Apache" (1948 ), "She Wore a Yellow Ribbon" (1949), "Rio Bravo" (1959) and "The Man Who Shot Liberty Valance" (1962), says History.com.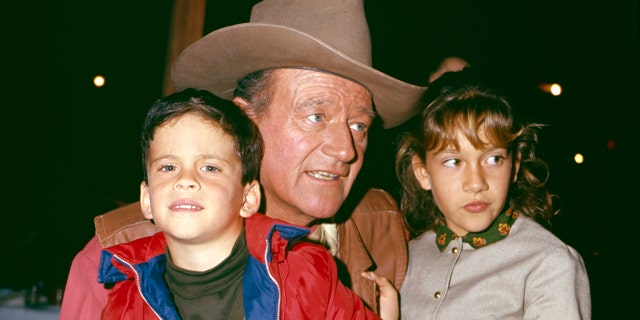 "In all of these films, The Duke, as he was known, embodied the simple, even simplistic, cowboy values ​​of decency, honesty and integrity," the same source says.
In the late 1960s, Wayne had both successes and failures, notes Biography.com.
He co-starred with Robert Mitchum in "El Dorado" (1967), which was well received.
Wayne won his first – and only – Best Actor Oscar for "True Grit" (1969).
The following year, Wayne was met with mixed reactions with the pro-Vietnam War film "The Green Berets" (1968), as Wayne directed, produced, and starred in the film.
ON THIS DAY IN HISTORY, JAN. 19, 2000, HEDY LAMARR DIES – 'THE MOST BEAUTIFUL WOMAN' IN HOLLYWOOD, WWII INVENTOR
"Considered by many to be a piece of propaganda, the film still did well at the box office," says Biography.com.
Things took a positive turn when Wayne won his first – and only – Best Actor Oscar for "True Grit" (1969).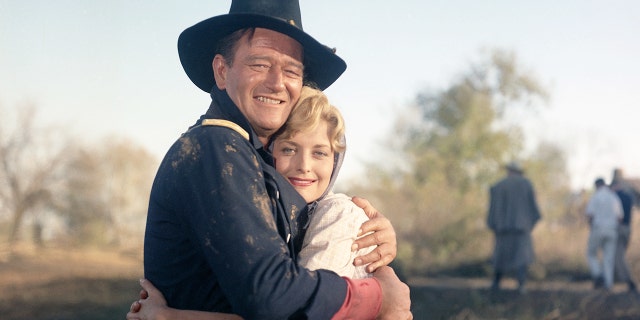 His last film was "The Shootist" (1976).
Wayne has been married three times to Josephine Alicia Saenz, Esperanza Baur and Pilar Palette, according to New World Encyclopedia.
He had seven children from his marriages, the first two of which ended in divorce.
He also had more than 15 grandchildren, the site says.
Wayne was honored by the United States Marine Corps with the Iron Mike Award, the highest honor given to a civilian; veterans of foreign wars with the price of Americanism; and the American Legion with another Americanism award, says the National Football Foundation.
CLICK HERE TO SUBSCRIBE TO OUR LIFESTYLE NEWSLETTER
He also won the Cecil B. DeMille Lifetime Achievement in Motion Picture Award from the Hollywood Foreign Press Association, the same source said.
Wayne died on June 11, 1979, at age 72, in Los Angeles, California, of stomach cancer, Britannica says.
CLICK HERE TO GET THE FOX NEWS APP
Many public places have been named in memory of John Wayne.
They include John Wayne Airport in Orange County, California, where his life-size statue adorns the entrance; John Wayne Elementary School (PS 380) in Brooklyn, New York, which features a 38-foot mosaic mural commission by New York artist Knox Martin titled "John Wayne and the American Frontier"; and a more than 100-mile trail named the John Wayne Pioneer Trail in Washington's Iron Horse State Park, according to the New World Encyclopedia.
Fox
Not all news on the site expresses the point of view of the site, but we transmit this news automatically and translate it through programmatic technology on the site and not from a human editor.