TPsychological terror is slow to rise and is not always located in the usual places in Yael Farber's vision of the tragedy of Shakespeare's power, guilt and inordinate ambition. When it comes, it's brutal, unrestrained and bloodcurdling.
Characteristic for Farber, the production focuses on the atmosphere and visual aesthetics. Set in a generically modern military context, with snippets of Vera Lynn but also automatic rifles, it seems for the first half that the lighting of Tim Lutkin, the sound of Peter Rice and the composition of Tom Lane evoke the feverish momentum. of the play instead of the human drama, which remains a little anemic.
James McArdle's Macbeth just appears to be an honest soldier during the first half while Saoirse Ronan's Lady Macbeth (who speaks singularly with an Irish accent against the cast's Scottish accent) is a bright and passionate woman, almost angelic in her suit. white at the opening scenes, and girl in her ending later. She turns from guilt into quiet sadness and never quite becomes a centripetal force in the room, or Macbeth's true "great partner".
There is also no terror in witches: Diane Fletcher, Maureen Hibbert and Valerie Lilley appear majestic and benign with their silvery hair and grave incantations – more like an omnipresent, omnipresent and wise Greek choir than a supernatural trio. strange sisters. For a while, it all looks and feels like a moving painting, deliciously choreographed in its movement, magnificent in its weirdness and orchestrations of light and shadow, yet slightly devoid of feeling.
That changes when Banquo (Ross Anderson) is murdered and the increasingly appalling acts of butchery give the room its emotional sparks, also bringing McArdle's Macbeth to life.
The murder scenes are full of physicality, with no sense of retreating from their horror as the children become both witnesses and victims. Banquo's murder and the escape of his son, Fleance (Jamie-Lee Martin in this performance), are quick but moving; the massacre of Macduff's wife (Akiya Henry) and his children (Myles Grant and Dereke Oladele in this performance) is longer and more despicable: we see the children slaughtered and Lady Macduff struggling as she is stabbed and then drowned in a cauldron of water.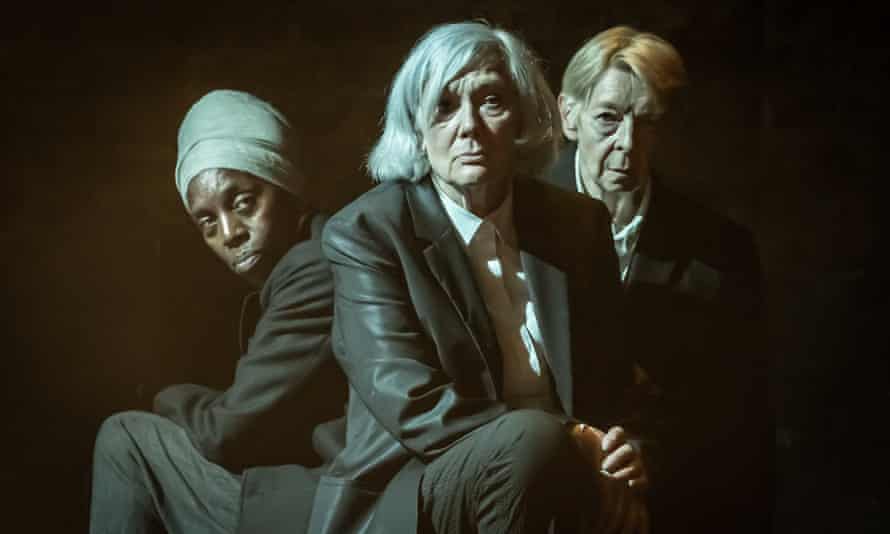 The bloodletting leaves McArdle's Macbeth unbridled in his raging angst and he truly becomes the embodiment of a man whose mind is "full of scorpions". He is consumed with guilt but at the same time pushed by it, appearing barbaric and psychotic at the end, with a gun stretched over his bare chest.
Other exceptional performances come from more minor characters: Henry is a magnificent Lady Macduff, both worthy and terrified that she is no longer protected after her husband's flight; Macduff himself is a maelstrom of tormented energy upon learning about the slaughter of his family. "My children too? … My wife was also killed? he asks incredulously, and the scene, prolonged and made central, is a terrible study of the consequences of the brutality that brings tears to our eyes.
A constant accompaniment of music runs throughout the drama; just like in Farber's Blood Wedding, there are some great a cappella songs (also by Henry), as well as a cellist (Aoife Burke) and an electronic soundtrack so evocative that it feels like a physical force on the symbolic ensemble of Sutra Gilmour.
The transparent screens are maneuvered rather artificially in the first half but become, more effectively, mirrors along the sides of the stage which denote the painful self-reflections of the characters. A faucet in the front doesn't seem like too heavy a symbol of guilt and atonement, and it floods the stage in a watery bloodbath to a fabulous effect. The set also contains fire, and the final scenes are terrifyingly beautiful and palpable, buzzing dread.
The play begins as a painting, with each character suspended in ghostly stillness on stage, and the end goes back to the beginning: the witches turn around their first lines, the actors recreate the painting, the specters once again. Except this time we see a boy soldier in their midst: Fleance stands, holding an automatic rifle, to show the addictive, compulsive and tragic cycles of the violence engendered.