USA
World News
July has already seen 11 mass shootings. Emotional scars don't heal easily: NPR
Nathan Howard/Getty Images
On Monday night, a gunman wearing a bulletproof vest killed five people in a Southwest Philadelphia neighborhood. Two children, aged 2 and 13, were injured.
Another shooting took place the same night at a street festival in Fort Worth, Texas, killing three people and injuring eight.
A day earlier, in the Brooklyn Homes neighborhood of Baltimore, a shooting at a block party killed two people and injured 28.
These are among 11 mass shootings – defined as acts of gun violence injuring or killing at least four people – that have occurred this month, and 346 mass shootings since the start of the year, according to Gun Violence Archive.
Mass shootings have increased in recent years, as have other types of gun violence, making firearms a major public health issue. This year alone, more than 21,000 people have died as a result of gun violence. Of these deaths, 12,210 were suicides.
But the impact of gun violence on public health extends far beyond those who are killed or injured. Far more people are left bereaved, traumatized and at risk of long-term struggle with a range of mental health issues.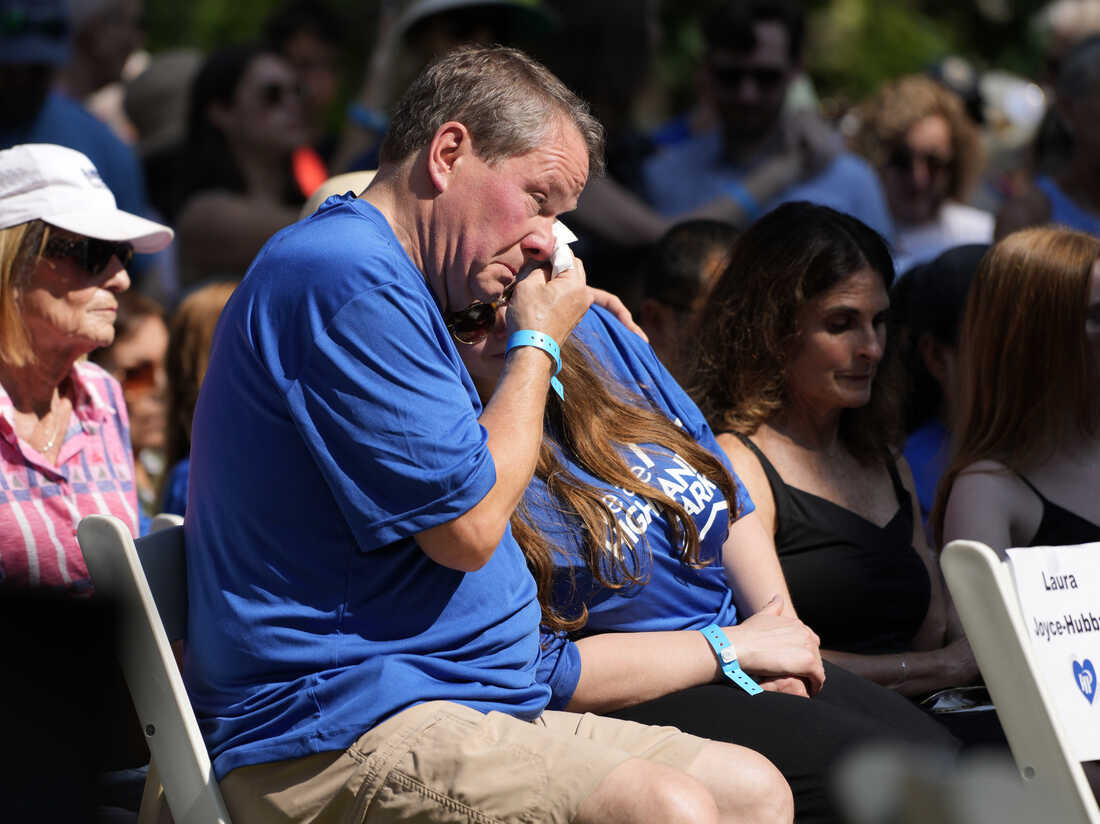 "Whenever a community is impacted by large-scale mass violence, the community is changed forever," says Duke University psychologist Robin Gurwitch. "The names of these communities are now tied to mass violence, whether it's Sandy Hook, or whether it's Oklahoma City, Columbine. There are so many of them."
Studies show that those closest to gun violence, who witness it or who are injured, or who lose a loved one or acquaintance, or even who have a loved one who was present during an incident, are most at risk for mental health impacts, She adds.
A recent Kaiser Family Foundation poll found that a significant number of Americans have had direct experience of gun violence. Nearly one in five adults who responded to the survey said they had lost a family member to gun violence, and a similar number said they had seen someone shot. These numbers are even higher in communities of color.
Nathan Howard/Getty Images
But recent research also shows that "community members are also affected even if they didn't know anyone," says Gurwitch.
A recent study from Children's Hospital of Philadelphia found that children within a five-block radius of a shooting were more likely to end up in a hospital emergency room in the weeks following the shooting, with symptoms. mental health issues such as anxiety and suicidal thoughts.
Immediately after gun violence, members of affected communities often experience symptoms of "acute stress," says psychologist Julie Kaplow, executive vice president of trauma and bereavement programs and policies at the Meadows Mental Health Policy Institute in Texas.
"People are hyper-vigilant, nervous, may have trouble sleeping or eating, may be extremely nervous about leaving loved ones," says Kaplow, who has helped communities affected by both the shootings in high school in Santa Fe in 2018, as well as the mass shooting last year at an elementary school in Uvalde, Texas.
According to Don Rodricks, columnist at baltimore sun. He remembers catching himself looking for the exits at a concert he attended with his family in recent years, "in case something happened," he told NPR's Steve Inskeep after the shooting. in Baltimore on Sunday.
"It affects how you think when you go out into the world," he added. "Young parents are worried about their kids at school, if there's going to be a mass shooting [at] a prayer service. I mean, 10-20 years ago you wouldn't have thought about the danger of doing this."
The good news here, Kaplow says, is that most people recover from these symptoms over time. But a significant minority, "usually 25% of individuals," she says, continue to experience long-term symptoms.
"Some of them include reliving it – feeling like the event is happening again, avoidance, not wanting to talk or think about what happened. Numbness, where they can literally feel like have no feelings," Kaplow said.
Adults can also develop behavioral health issues like substance abuse, social withdrawal, and even suicidal thoughts.
And children who have been victims of gun violence are also at risk for long-term mental health problems, especially those with certain pre-existing risk factors.
"For example, we know that children who have already experienced trauma or loss are at higher risk of developing PTSD over the longer term," Kaplow says. And these children are more likely to be from communities of color, which are at higher risk of experiencing chronic violence and also death from other causes.
"We also know those who have very little social support or those who already had significant mental health issues before the event, such as anxiety or depression."
Children are also at higher risk for long-term mental health issues when their parents and/or caregivers don't get the support they need, Kaplow says.
"Children are sponges and they absorb everything they see and hear in their environment," she says. "And if that includes a carer who is very panicked or very anxious about what's going on, that can have a huge impact on how the child is feeling."
And so, providing social and mental health support to adults in children's lives is critical to helping communities recover from the trauma of gun violence, she says.
Long-term bereavement support is also essential, adds Kaplow.
"We know that for these communities, although the trauma may fade over time, and it usually does, the grief remains. And that's an area that receives very little attention."
This is where community and faith-based organizations can play an important role in healing communities from the potential long-term effects of gun violence, she says.
NPR News
Not all news on the site expresses the point of view of the site, but we transmit this news automatically and translate it through programmatic technology on the site and not from a human editor.