Joe Biden speech: Trump has 'surrendered' against coronavirus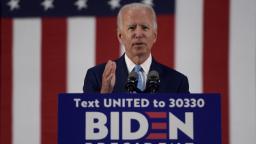 In a speech in Wilmington, Delaware, the former vice president recounted what he cast as Trump's missteps, from Trump's early dismissals of the virus to his more recent refusals to wear a mask in public appearances.
Pointing to Trump in March declaring himself a wartime president in battling the coronavirus, Biden said: "What happened? Now it's almost July, and it seems like our wartime president has surrendered — waved the white flag and left the battlefield."
Biden's remarks came as recent polls of voters nationally and in key swing states show him with a lead over Trump. Biden, whose public appearances in recent months have been limited to small, invite-only crowds, also took questions from reporters, saying he "can hardly wait" to debate Trump.
Biden's speech tied together proposals he has issued in recent months, including calls for a national board to oversee a "massive surge" in coronavirus testing.
He framed most of his remarks as directly addressing Trump, urging the President to adopt Biden's proposals immediately.
"You know the steps you've taken so far haven't gotten the job done, Mr. President. Fix the shortage of PPE for our health care workers before you tee off another round of golf," Biden said.
Biden said he would call Dr. Anthony Fauci, the nation's leading infectious disease expert, shortly after being declared the winner of the general election to ask him to remain on in his position of director of the National Institute of Allergy and Infectious Diseases, a post Fauci has held since 1984.
He also criticized Trump's administration for what he cast as a piecemeal state-by-state approach to whether and how businesses can reopen.
"We need real plans, real guidelines, with uniform, nationwide standards, to help us chart our economic re-opening. Whatever we've been doing now is not working. The state-by-state approach will only produce confusion and slow any progress," he said.
Biden said there should be federal guidance "that everyone needs to wear a mask in public, period. Period."
"Wear a mask. It's not just about you. It's about your family. It's about your neighbors. It's about your colleagues. It's about keeping other people safe," he said.