USA
World News
Inflation pushes UK's budget deficit to £25.6bn in April; John Allan to step down as Barratt chairman early – business live | Business
Key events
Although borrowing jumped in April, the UK actually borrowed less than expected in the previous financial year.
The ONS has revised down its estimate of the budget deficit for the 2022/23 financial year which ended in March to £137.1bn, from £139.2bn previously.
Hunt: We were right to borrow to protect families and businesses
Commenting on the rise in UK borrowing this morning, Chancellor of the Exchequer Jeremy Hunt said:
"It is right that we have borrowed billions to protect families and businesses from the impacts of the pandemic and Putin's energy crisis.

"But debt and borrowing are still too high now – that's why it's one of our priorities to reduce debt.

"We've made some tough but necessary decisions to balance the nation's books, and if we stick to our plan and our economy grows, then the debt should go down."
John Allan says he regrets having to resign early at Barratt.
In a statement reported by PA Media, Allan said:
"It is with regret that at the request of the Board of Directors, I am stepping down as Chairman of Barratt Developments Plc effective June 30, 2023, before completing my term in early September as planned.

"My early departure from Barratt is the result of anonymous and unsubstantiated allegations made against me, as reported in the Guardian, which I vehemently deny."
John Allan to step down as Barratt chairman early at board request
Outgoing Tesco chairman John Allan is stepping down as chairman of homebuilder Barratt Developments ahead of schedule at the request of the board.
Barratt told the city this morning that Allan will be stepping down as chairman of the board and a director of the company effective June 30, 2023.
Allan was due to step down in September, to be replaced by non-executive director Caroline Silver, but that plan – announced in January – has been brought forward.
Barratt told shareholders they decided to expedite the transition to prevent the allegations against Allan from disrupting the business, saying:
At the request of the Board, John Allan will step down as Chairman of the Board and as a director of the Company on June 30, 2023.

The board believes it is in Barratt's best interests to expedite the planned transition to the new board chairman in order to prevent the continued impact of the allegations against John from disrupting the company.
Barratt added that he had not received any complaints about John Allan during his tenure with the company, which he joined in 2014.
Last Friday, Tesco announced that Allan would step down in June, after the Guardian reported that Allan allegedly touched the buttocks of a senior member of Tesco staff in June 2022, during the company's last annual general meeting .
Four allegations about Allan emerged during the Guardian's investigation into the Confederation of British Industry (CBI) – the UK's main business lobbying group.
Allan was president of the organization between 2018 and 2020 and then vice-president until October 2021.
He denied three of the four complaints against him. He admitted to making a comment about the appearance of a CBI staff member that she found offensive in 2019 and apologized for the remark.
Barratt Senior Independent Director Jock Lennox says:
"The Board is grateful to John for his nine years of service to Barratt. It leaves the Company in a solid financial and operational position, continuing to perform well in difficult market conditions. »
Intro: UK runs £25.6bn budget deficit in April
Hello and welcome to our ongoing coverage of business, financial markets and the global economy.
Britain borrowed more than £25bn to balance the pounds last month, the second-highest borrowing for an April on record, and more than expected.
Soaring inflation and the cost of capping energy bills have pushed up borrowing again, according to the latest figures from the Office for National Statistics.
Borrowing hit £25.6bn last month, £11.9bn higher than April 2022, and the second highest since monthly records began in 1993 (behind April 2020, when the pandemic hit the economy).
Economists polled by Reuters had predicted net public sector borrowing, excluding the impact of public banking, would have reached £19.75bn in April.
Although public sector revenue rose by £900million in April compared to March, this was eclipsed by a £12.8billion increase in public sector spending.
High inflation has continued to drive up the cost of the national debt, as many government bonds are indexed to the rising cost of living.
Interest payable on central government debt jumped to £9.8bn in April, a jump of £3.1bn from April 2022. This was due to the increase in the measure of RPI inflation.
The ONS explains:
Rises in the retail price index increased interest payable on index-linked gilts. This represents the third highest interest to be paid in a month on record, behind £20.0 billion in June 2022 and £18.0 billion in December 2022.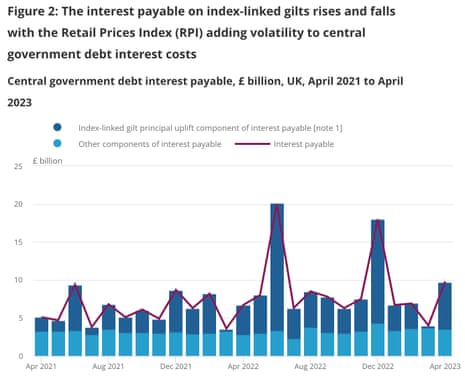 The UK's energy support programs meant the central government spent £3.9billion on grants, £1.8billion more than in April 2022.
Most of this increase is due to the cost of the household energy price guarantee and energy bill rebate program.
Also coming today
The British economy and its policy makers are in the spotlight today.
A team from the International Monetary Fund is in London to give its annual health check on the UK economy.
The IMF will deliver its verdict after meetings with the Bank of England, the Treasury, independent watchdogs the Office for Budget Responsibility and the Financial Conduct Authority.
Last month, the IMF predicted that UK GDP would shrink by 0.3% this year, the weakest of any major industrialized country.
But Chancellor Jeremy Hunt has pledged to beat those forecasts, and earlier this month the Bank of England updated its own estimates due to an improving economic outlook.
Hunt and IMF Managing Director Kristalina Georgieva will hold a press conference to discuss the report this morning, starting at 11:15 a.m.
Treasury committee MPs will also question senior Bank of England officials this morning.
Bank of England Governor Andrew Bailey, Chief Economist Huw Pill, and Monetary Policy Committee members Catherine Mann and Silvana Tenreyro will be quizzed on this month's interest rate hike to 4 .5%, the highest since 2008.
Huw Pill's recent comment that UK households and businesses 'have to accept' that they are poorer could also come back….
Agenda
9am BST: Eurozone PMI flash surveys for May

9.30am BST: UK flash PMI surveys for May

10.15am BST: Treasury Committee hearing with the Bank of England on monetary policy.

11:15 a.m. BST: End of IMF 2023 Article IV mission press conference in London.
theguardian
Not all news on the site expresses the point of view of the site, but we transmit this news automatically and translate it through programmatic technology on the site and not from a human editor.