USA
World News
Imran Khan slams Pakistani government in his address to the nation
Former Pakistani Prime Minister and head of Pakistan Tehreek-e-Insaaf (PTI) Imran Khan, has blasted the Shehbaz Sharif administration, alleging that the government had "made a plan" to imprison him and that the whole incident surrounding his detention had been "pre-planned".
In his address to the nation, he also categorically rejected any culpability in any corruption allegations against him.
Addressing the nation, former Prime Minister Imran Khan said, "I want the nation to know how a plan has been made to arrest me based on false and baseless cases. A lawyer is killed in Quetta and without investigation or evidence. Shahbaz Sharif's adviser goes on TV the same day and says that the murder was committed by Imran Khan and later the video of the widow of the same lawyer shows who did it".
Related Articles
'Will be arrested again': Ex-Pakistani PM Imran Khan expresses fear as bail ends today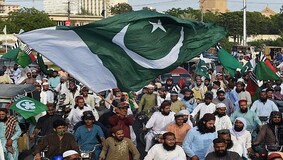 How army chief Asim Munir hurt Imran Khan's popularity and became Pakistan's final arbiter
"It's not politics…it's jihad. We are all slaves," Imran Khan added.
Imran Khan, former Prime Minister and head of the PTI, was arrested by the National Accountability Bureau (NAB) on May 9 inside the High Court in Islamabad on suspicion of corruption in relation to the Al-Qadir Trust, which he and his wife, Bushra Bibi, co-owner.
Khan's party staged protests after his detention, several of which turned violent. The government launched a campaign of repression, leading to numerous arrests across the country. The perpetrators of the May 9 violence are tried by military courts.
"On May 9, I was arrested as a terrorist by Islamabad High Court while on bail, and after that cases piled up while Supreme Court also declared this arrest illegal . Is someone going to answer? Khan asked during his speech.
He added: "16 innocent Pakistanis have been shot dead, 9 people are missing but there is no investigation and no one talks about it. Is it a free society? Do these Pakistanis have no rights? Are their wives and children not part of the family? »
Prior to his speech, Imran Khan called on the audience to show "challenge" and stand up for "Haqeeqi Azadi" (true democracy).
"Let us all raise the PTI flag to show our defiance to those trying to crush Pakistan's largest and only federal party through this current reign of terror. We defend our Haqeeqi Azadi. he said on Twitter before the address.
Slamming the government's Shehbaz Sharif during his speech, Khan said that if brought before a public court, he can prove that his entire arrest was "pre-planned".
"I mean bringing me into open court on a televised address. I'm going to prove that this was all pre-planned. The way I was chosen from there. It was pre-planned for the provocation. Later, when people reacted, it was used to crush the party (PTI), because the party was not bogged down," he added.
Referring to the French protests over the shooting death of a teenager, the PTI president said: "So many innocent civilians have been shot, no one is even talking about it, and in France only one person has been shot and see what is event. It is what is called a free nation".
Imran Khan accused the Pakistani government of destroying all institutions in the country and gave an "explanation" denying any wrongdoing in the Al-Qadir case, the Toshakhana case and the land scam.
Imran Khan claimed the check payments in the alleged land scam were made after Khan was removed as prime minister after losing a majority.
"They filed an anti-corruption complaint against Bushra Bibi alleging that a road was built in her village. They also filed the case on me and my sister. These 'duffers' say that as prime minister I got them land worth PKR 6 million at cheaper rates. But, look at the check numbers. The first check was given on April 25, 2022. The other check is June 2. And I haven't been a PM since April 9," he said.
The PTI Chairman further stated that in the Al-Qadir case, not a penny could have gone to Imran Khan or Bushra Bibi as they happen to be the trustees of the charitable trust.
"In the Al-Qadir case, the firm received a proposal that if a case between a Malik Riaz family and the UK National Crime Agency is settled and kept confidential from the firm, 190 million books will come to Pakistan. But if it is not kept confidential, Pakistan will have to prove its position in court. The case would have lasted 5-6 years, and we (Pakistan) have a very bad track record in foreign affairs, and have already lost cases worth more than $100 million," he said.
Imran Khan added: "If they allege money laundering here, what is stopping them? The money has arrived in Pakistan. It was a unanimous decision adopted by the cabinet. They also accuse that I did this for the benefit of Al-Qadir University which is a charitable foundation. But, in a charitable trust, not a penny can go to the trustees, which includes me and Queen Bushra."
The Al-Qadir Trust case alleges that the head of the PTI and his wife, Bushra Bibi, obtained billions of rupees and land worth hundreds of kanals from a real estate company for legalizing 50 billion PKR who were identified and returned to the country by the UK during the former PTI government, according to The News International report.
He also claimed that the Toshakhana gifts were sold "by the rules" and that everything was declared in FDR.
"According to the law, when the Prime Minister, the President, the Chief of the Army receive gifts, they go to Toshakhana, where they are appreciated. It is done through an FDR, with an initial value and then a expertise. If there is excess value, they give the opportunity to buy. This is the rule. Under this I have taken many gifts and refused others. All that I sold is declared in FBR and subject to capital gains tax.What's wrong here?Also in this case NAB, Electoral Commission and FIR are also filed.There is no It's just not possible to have three cases pending on the same issue," he added.
The case centers on allegations that the former prime minister 'deliberately concealed' details of gifts he kept from the Toshaskhana – a repository where gifts handed over to government officials by foreign officials are kept – during his tenure. of Prime Minister and the product of their reports. sales.
Read all Latest news, New trends, Cricket News, bollywood news,
India News And Entertainment News here. Follow us on Facebook, Twitter and Instagram.
firstpost
Not all news on the site expresses the point of view of the site, but we transmit this news automatically and translate it through programmatic technology on the site and not from a human editor.