Delaware News
Here's where you can get clothing designed and made by Tucsonans
The next time you need something new for your wardrobe, try something designed or made by a Tucsonian. Here's a handy little guide to help you find the next staple item for your wardrobe.
Clothing lines
This section features clothing lines that were created right here in 520.
Cactus Wren Apparel – The cutest desert inspired t-shirts for your kids. Sorry, no adult sizes. 🙁
Classic Rock Couture – OK, OK, Classic Rock Couture isn't located in Tucson, but this Bisbee-based shop has the finest 1970s-inspired bomber jackets.
Mi Reina Mobile Boutique – Although Mi Reina Mobile Boutique offers a variety of clothing items, they also have their own designs, including a shirt with the street names of the south side of Tucson and "reina" merchandise.
NO BAD DAYS Design Studio – Find fun designs and tie-dye t-shirts at this online store. You can also find exclusive products at the local store Hola Chingona, 412 E. Seventh St.
Planet Gabu – Planet Gabu is a female-owned and operated clothing line that manufactures small-run and limited-edition clothing pieces that are all designed in-house.
South Sixth Bodega – This store started as a small entity on South Sixth Avenue and worked its way up to a full-size store in Tucson Mall, 4500 N. Oracle Road. They offer high-end clothing, footwear and their own South Sixth Bodega designs.
The Underrated City – Need we say more? The Underestimated City, 267 S. Avenida del Convento, is one of the most recognizable Tucson-based clothing lines here with its iconic TUC merch.
Artists who put their creations on T-shirts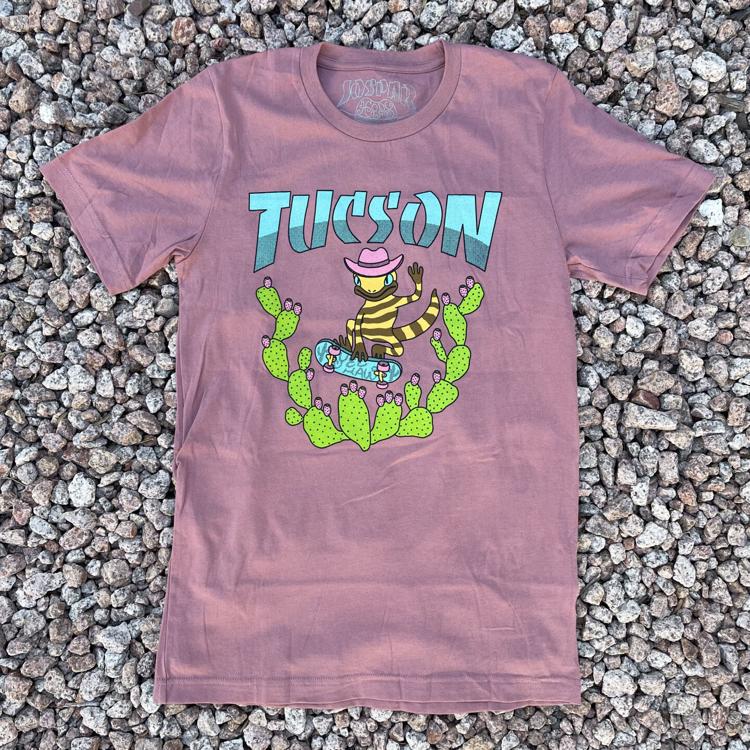 It's no secret that Tucson is brimming with talented artists and designers. Here are some local artists who put their desert designs on T-shirts.
Jos Par – If you've visited any maker's markets in Tucson, chances are you've seen Jos Par's fun, desert-inspired designs.
Lucky Salway – Native inspired clothing created by local Tohono O'odham and Oglala Lakota artist.
Sonoran Witch Boy – Sonoran Witch Boy takes his botanical designs and places them on various items including tote bags and t-shirts.
Sparrows & Sombreros – Sparrows & Sombreros' Tucson-inspired designs are featured on prints, candles and, of course, t-shirts.
Fashion designers and brands
While Tucson offers many clothing lines created by artists and graphic designers, we have a number of brands created by people with a background in fashion design and sewing. Here are some local designers who make their items by hand.
Adia Jamille — Adia Jamille creates hand-dyed garments such as skirts, pants, dresses and more. You can even choose one or two matching scrunchies.
Black Broccoli – Nick Arcade, the designer of Black Broccoli, 418 E. Seventh St., creates original designs and reworks vintage clothing (usually from the 1980s and 1990s) into something new and fresh.
Hot Girl Handcrafts – Hot Girl Handcrafts makes super cute crochet clothes like bikinis, skirts and even pants.
Laura Tanzer — Laura Tanzer is a fashion designer who creates high fashion pieces in a sustainable way. Tanzer lived in Arizona for over two decades, but now resides in Pennsylvania. However, you can still catch it at the occasional art market here.
Monster Booty Threads – You can find Monster Booty Threads' reworked designs at Pop Cycle, 422 N. Fourth Ave. Their work takes vintage western flannels and adds a fun twist with handmade felt patches.
Nessa Crafts – Nessa Crafts crochets tops, cardigans, crop tops and sweaters that bring some sunshine to your wardrobe.
Qmulative – Qmulative's signature item is its Arizona-shaped pocket t-shirts. The brand was created by Tucsonan native Quinlan Wilhite after learning to sew from his grandmother in 2013.
Zabana Clothing — Zabana Clothing was started a few years ago by Tucsonan Savannah Franco. She upcycles items and upcycles fabrics to create durable and out-of-this-world clothing.
Lingerie
Lingerie also counts as clothing, right?
Hello, Tiger! — Find bodysuits, loungewear, bralettes and panties in this local, handcrafted lingerie brand created by Emilie Marchand. All items are created in small batches!
Nova Lace Lingerie – This local artisan lingerie boutique may be on hiatus right now, but when its online store is open, you'll find stunning iridescent lingerie.
Have a favorite local clothing designer that isn't on the list? Let me know at everdugo@tucson.com.
Delaware
Not all news on the site expresses the point of view of the site, but we transmit this news automatically and translate it through programmatic technology on the site and not from a human editor.