Storms and heavy rains have exposed the extent of destruction caused by the massive fires on the Greek island of Evia, as communities are now forced to contend with flooding and mudslides.
After a summer of record temperatures sparking unprecedented forest fires across Greece, authorities in affected areas are now on the defensive as the country has been hit by a second wave of severe weather in less than a week.
"We have already seen unusual amounts of rain in parts of the country," said Dr Kostas Lagouvardos, research director at the National Observatory in Athens. "But from Thursday we are waiting for this [new] weather system will create a very dangerous situation, especially in burnt areas where the soil is already saturated and the streams overflow.
An estimated 300,000 acres of forest and bush were cremated in Greece over the summer at temperatures that reached 47.1 ° C – the highest on record – on August 3.
More than a third of the devastated area was in northern Evia, according to the Athens National Observatory. In recent weeks, local communities have been racing to build flood barriers to compensate for loss of forest cover, with authorities clearing river beds and people piling sandbags around their homes.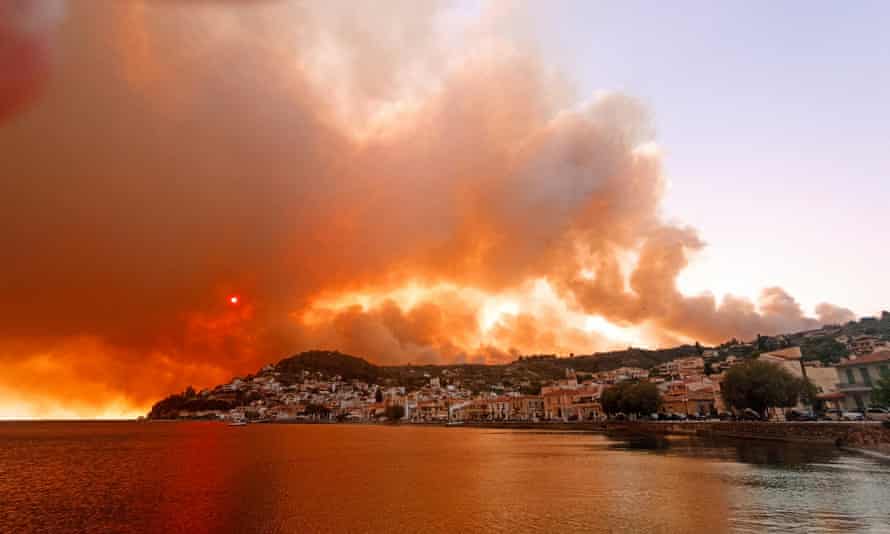 However, for many, the storms have already been catastrophic: more than 200 homes were damaged over the weekend in heavy rains and widespread flooding made roads impassable, sending mudslides tumbling down from now devoid of vegetation into the mountains. the sea.
"The situation is dramatic. A mountain of mud has been removed from the village, "said Giorgos Tsapourniotis, the mayor of Mantoudi, comparing the scenes to a biblical disaster. "We have hundreds of calls to pump water from homes."
As storms hit Athens on Thursday, ripping masonry from the Greek parliament and in some cases forcing children to be evacuated from schools, the weather service issued a red alert warning people to avoid unnecessary movement. Heavily forested areas north of the capital were also decimated by forest fires in August.
"What we are seeing is the loss of essential ecosystem services provided by forests," said Demetres Karavellas, who heads WWF Greece, noting that the Evia forest fire was the largest on record in the history of Greece. "The soil's natural ability to hold water, to act as a flood control mechanism, has been destroyed over a large area."
The Mediterranean has been identified as a wildfire hotspot with wildfires that erupted from France to Turkey over the summer.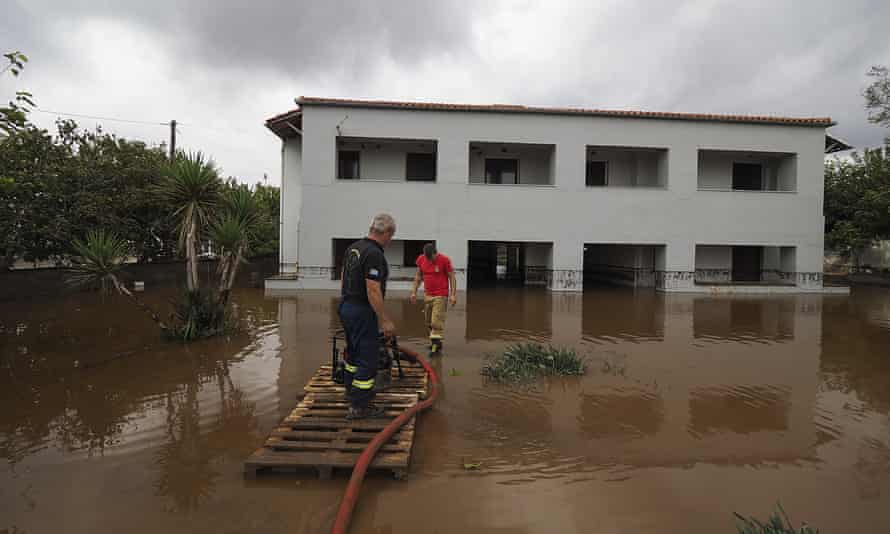 Scientists agree that the climate crisis is partly responsible for creating the conditions that make forests more vulnerable and flooding easier. With temperatures hotter than they had been for 30 years, a parched land had turned into a powder keg fueling hundreds of fires "in all corners of the country", then declared Greek Prime Minister Kyriakos Mitsotakis. .
Without the help of more than 20 countries, the deployment of firefighters and water jets, the emergency services would not have been able to cope.
But Karavellas says there is also "a sense of déjà vu" with fires ever increasing in ferocity due to poor forest management policies and lack of follow-up after the fires.
"The key issue here is prevention. We need to prevent such fires from happening in the first place by moving from a paradigm of suppression to prevention with all that that entails, "he said. "If we were ill-prepared in the past, there is no excuse now."