USA
World News
Florida Grand Jury Accuses Biden HHS of 'Complete Abdication of Responsibility' for Migrant Children's Welfare
A Florida grand jury that was convened at a request from Governor Ron DeSantis last year accuses the Department of Health and Human Services (HHS) of a "complete abdication" of responsibility for the well- being unaccompanied migrant children being transported to the state – amid a wider investigation into the relocation of UACs by the federal government.
The grand jury report concluded that the HHS Office of Refugee Resettlement (ORR) "facilitates the forced migration, sale, and abuse of foreign children, and some of our fellow Florida citizens (in some cases unwittingly) fund it. and encourage it primarily for economic reasons."
DeSantis filed a motion last year to have the Florida Supreme Court "appoint a statewide grand jury to review international human trafficking rings that bring aliens to the southern border, and finally in Florida".
The 46-page report is the latest report from the jury, which has already published two such reports on illegal immigration. The latest report focuses specifically on the release of migrant children to the United States by sponsors.
HHS CHIEF 'UNFAMILIAR' WITH REPORTS AGENCY CANNOT CONTACT 85,000 UNACCOMPANIED MIGRANT CHILDREN
When unaccompanied children come to the border, they are currently turned over by Border Patrol to Health and Human Services (HHS) who will attempt to find them an in-country sponsor – usually, but not always, a family member. While not unique to the Biden administration, it has become a major issue under the administration due to the large influx of children arriving at the border as part of the ongoing migration crisis.
The report describes a "clandestine" process to facilitate the transport of migrant children to Florida. Over a six-month period in 2021, he describes how more than 70 planes landed in Jacksonville, Florida, overnight and the businesses and others involved often received last-minute notices.
"If an operation carried terrorists or large quantities of narcotics, this is what it would look like," he said.
The report blamed HHS for a lack of background checks and follow-up both during the current and previous administrations. He noted that in fiscal year 2021, ORR took custody of 122,700 children but only conducted 5,468 home visits.
DHS HAS REMOVED ONLY 409 OF 345,000 UNACCOMPANIED MIGRANT CHILDREN SINCE FY2021
"Of the 245,515 children placed with sponsors between August 2018 and January 2022, only 1,835 received discretionary home study, less than 1% of cases," he said.
He also cited instances of some sponsors requesting to receive more than one child, including an address in Texas to which 44 children were sent, while a sponsor in Florida sent children to multiple addresses using different forms. of his name. The report says witnesses described how some sponsors used the address of a strip club in Jacksonville, empty lots.
The report also describes stories of alleged abuse that unaccompanied children suffered when they arrived at their sponsors' homes, including a child 'pimped' by an 'aunt', some who had run away because they were sold for sex, young children being left with an unknown man while a sponsor worked, and children being forced to drop out of school and work to pay off debts from being smuggled into the United States. United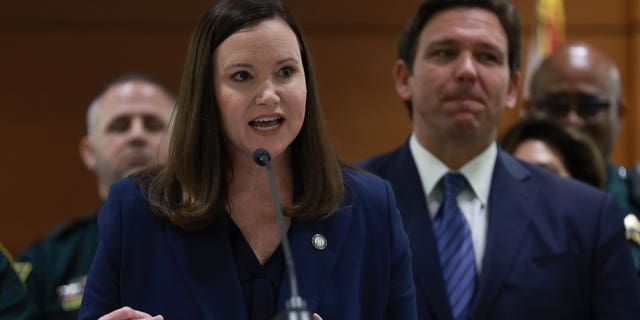 The report says documents proving sponsorship are rarely provided in person and interviews are conducted over the phone. The report finds that the ORR "has a rather spotty record when it comes to sponsor verification and has intentionally gutted many of the minor protections that were in place regarding the identity and background of the adults to whom they were referred. given".
"We believe this is why the agency is doing everything it can to keep the public from knowing what is going on," the report said.
FEDERAL JUDGE RULES BIDEN'S BORDER POLICIES ILLEGAL, JUST AN 'ACCELERATOR' FOR ILLEGAL MIGRANTS
It also blames the agency for what it says could be construed as facilitating child trafficking.
"ORR and its non-profit partners may wish that we trust their process and ignore the evidence and testimony presented. But what has been observed is the complete abdication of responsibility for the good -be underage children whom they transported to our state and then effectively abandoned, often in dangerous and illegal situations," the report states.
In a statement, Florida Attorney General Ashley Moody thanked DeSantis for calling for an investigation into what she called the Biden administration's "dismal failure to protect unaccompanied minors in situations dangerous".
"As a mother, I am outraged at how the Biden administration and other authorities have encouraged this nightmare through policies and neglect hundreds of thousands of children, subjecting them to abuse and assault. sex even after crossing the border," she said. "The federal government knowingly aids and abets the trafficking organizations and allows these children to suffer horrendous suffering."
"I call on Congress to investigate and review federal law to stop these misguided programs," she added.
The grand jury issued recommendations, including that it be made mandatory for anyone in the state who obtains custody of a UAC to report it to the state Department of Children and Families and initiate a procedure to determine legal custody. They recommend making it a crime
The report comes amid ongoing concerns about potential UAC trafficking in the United States. More recently, the New York Times published an in-depth report on migrants who had been handed over to sponsors, but were trafficked and forced into dangerous jobs.
CLICK HERE TO GET THE FOX NEWS APP
HHS did not immediately respond to a request for comment on the grand jury report. However, during a Senate hearing earlier this month, HHS Secretary Xavier Becerra was asked about the Times report and the figures cited that the agency had been unable to get in touch with more than 85,000 UAC.
"I've never heard of that 85,000 number, I don't know where that came from and…so I would say that doesn't sound realistic at all, and what we're doing is we're trying to follow up as best we can with these children," he said.
"Congress has given us certain authorities. Our authorities end when we find a suitable sponsor to place this child. We try to follow up, but neither the child nor the sponsor are actually obligated to follow us," he said. he declared. .
Fox
Not all news on the site expresses the point of view of the site, but we transmit this news automatically and translate it through programmatic technology on the site and not from a human editor.