Entertainment
Fifty years later, New York priest still draws on Vietnam combat experience to serve others
Fifty years after the United States withdrew its troops from Vietnam, a New York priest says his combat experience there continues to shape his pastoral ministry.
"It gave me sympathy for people's brokenness and the difficulties they have to face in life," Monsignor said. Charles Fink, a retired priest from the Diocese of Rockville Center, New York, now in residence at Notre Dame Parish in New Hyde Park, NY "And that gave me a great sense of fellowship with the guys I have served, the brotherhood of soldiers."
After graduating in 1968 from St. John's University in Queens, NY, Msgr. Fink served a 21-month tour of Vietnam, first as an army specialist, then as a sergeant in the 199th Infantry Brigade (Light), receiving a Purple Heart for his service. Its deployment coincided with the peak years of U.S. combat presence in the 1954-1975 conflict, during which the communist government of North Vietnam sought to dominate the U.S.-allied government of South Vietnam. United.
Amid fears of Cold War communist expansion, the presence of American military advisers in South Vietnam increased during the 1950s and early 1960s, with the arrival of combat units in 1965. Four years later, President Richard M. Nixon began withdrawing American troops – which at their peak deployment totaled over 500,000 – in response to American domestic demands, and in 1975 the remaining American diplomatic personnel were evacuated so that Saigon fell to the forces of North Vietnam.
At the other end of the world, far from the university courses in philosophy which had led him to enter into full communion with the Catholic Church through his episcopal faith, the US Army Spc. Charles Fink would step off a military transport plane and quickly learn lessons of life, death, and pure survival.
He saw his 19-year-old squad leader Claude Van Andel, who had switched positions with him while on patrol, being killed by a landmine. Wounded in battle, Fink quickly returned to the field, where nature and the enemy challenged body and soul.
"On the pitch it was very primitive and tough," said Msgr. Snitch. "You were sleeping on the floor, with rats crawling all over you. During the six-month rainy season, you were so soaked that almost always your skin was wrinkled.
Streams were often his only means of bathing, because "you would go without a shower for weeks," he said. "It was just a really dirty, dirty life."
All the while, "you were on guard to be ambushed," he said. "There were sniper fire and booby traps everywhere. There were days when you would have 10-12 guys hurt by the traps. You would walk through rice paddies and pineapple fields, and there would be an explosion. … Often you were not in physical contact with the enemy, but you still suffered because of his presence.
Msgr. Fink said his faith enabled him "enormously" to stay "essentially sane" during his nearly two-year deployment in which he became a sergeant.
"I started then, and have continued ever since, to be very dedicated to the rosary," he said. "I prayed to him every day there and ever since."
The belief that US involvement in Vietnam, while divisive and despised in the United States, was right was also reinforced.
"I believed then and now that we had a legitimate interest there and that our mission was noble," he said. "If I really thought it was all unfair and sinful, I wouldn't have gone; I would have been a conscientious objector or simply refused. But that was not the case. … We were invited to come, to save the South Vietnamese people from being taken over by the communists. We did not impose ourselves.
He mentioned "there were atrocities committed" for which there could be "no justification".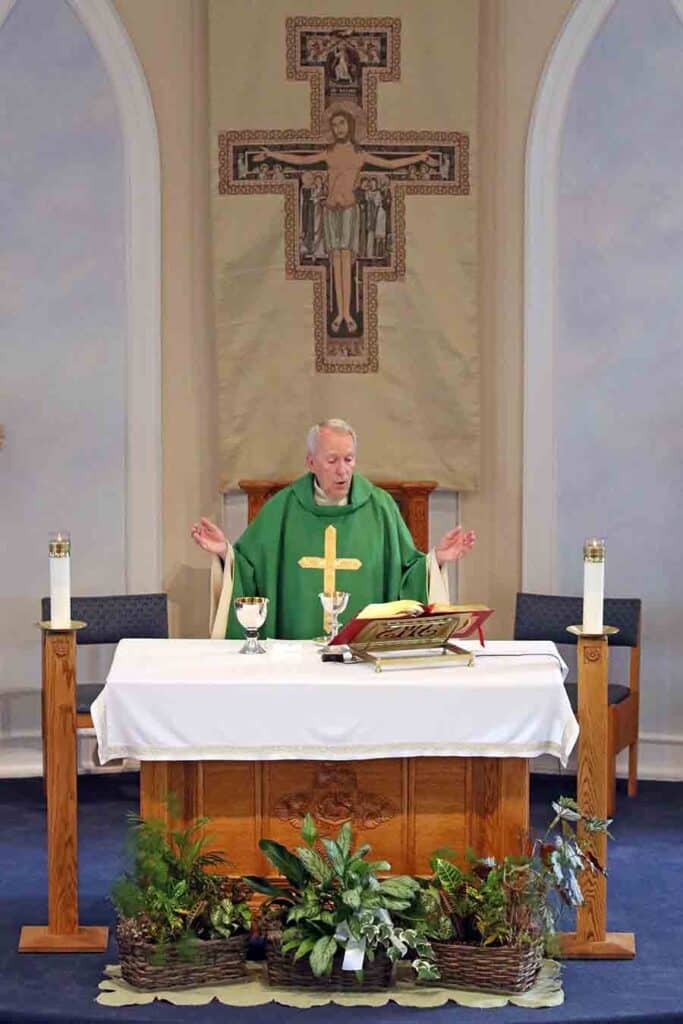 Yet such crimes were inaccurately "portrayed as happening every day" at the hands of US troops, he said.
"I still think our abandonment of these people was a greater act of immorality than our being there in the first place," he said. "And I'm not just talking in the sense of withdrawing troops. We were supporting them financially and with weapons, and at a certain point we decided to leave saying, "It's not our problem", while the other side was armed by China and Russia.
Msgr. Fink said he returned home from his tour in a nation that seemed to want to distance itself from war as quickly as possible.
"It was like, 'You're back, it's over, let's move on,'" Msgr. Snitch. "It has become an unfortunate subject; nobody wanted to talk about it. »
But Msgr. Fink, who entered seminary after completing graduate school at the Catholic University of America, quickly found himself speaking out.
Listening to a seminar presentation by anti-war activist and former nun Elizabeth McAlister, Msgr. Fink was troubled to hear American troops called moral transgressors.
"The portrayal (of McAlister) was very distorted and biased," he said. "I was the only one in the building who had direct experience of the war."
Angered, he wrote the poem "Bury Me With Soldiers", denouncing "the hypocrisy of conferences of the wise" and praising the soldiers who "did not want war" but fought nobly and "although afraid. .. faced the guns and died".
The text, which Msgr. Fink often shares presentations, has circulated widely over the years, with one example left in 1987 at the Vietnam Veterans Memorial in Washington and now part of a National Park Service collection.
Msgr. Fink told OSV News that his wartime experiences have helped him serve others with a deeper sense of compassion for their inner wounds, whether they're dealing with moral hurt, grief or other trauma. .
While emphasizing the healing and forgiveness that Jesus Christ freely offers, Msgr. Fink also cautions against "glib" attempts to rush into recovery in search of "closure" that isn't necessarily possible before eternal life.
"You can remove a level of pain just by getting people to accept the things they can't change and to accept that they are different because of what happened to them," he said. "Let it teach you and change you for the better. It's not heaven, but these things can help you get there if you learn about it.
---
---
The full text of Msgr. Charles Fink's poem "Bury Me With Soldiers" follows. A copy can be found on the Vietnam Veterans Memorial Fund website at https://www.vvmf.org/items/7421/VIVE16062:
I have played many roles in life;
I have met many men;
I've done things I'd like to think about
I wouldn't do it again.
And though I'm young, I'm old enough
To know that one day I will die,
And think of what lies beyond,
Who would I sleep next to?
It may not matter much;
Yet, if I had the choice,
I would like a grave among the soldiers
When finally death stifles my voice.
I'm tired of hypocrisy
Lectures by the wise.
I'll take the man, with all his faults,
Who goes away, although frightened, and dies.
The troops I knew were commonplace;
They didn't want war.
They fought because their fathers and
Their fathers had before.
They cursed, killed and cried – God knows
They are easy to ridicule –
But bury me with men like these;
They faced guns and died.
It's funny, when you think about it,
The way we got along.
We came from different worlds,
To live in a nobody belongs.
I didn't even like them all;
I'm sure they would all agree.
Yet I would give my life for them,
I hope. Some have done it for me.
So bury me with soldiers, please
Although they are much decried.
Yes, bury me with soldiers, because
I miss their company.
We will not soon see their fellows again;
We've had our dose of war.
But bury me with men like them
Until someone else does more.
– Charles Fink, 199th Infantry Brigade (Light)
Find out more Arts & Culture
Copyright © 2023 OSV News

To print
catholicreview
Not all news on the site expresses the point of view of the site, but we transmit this news automatically and translate it through programmatic technology on the site and not from a human editor.