USA
World News
Feds arrest man in anti-abortion group's arson attack using DNA from partially eaten burrito
WASHINGTON — Federal authorities on Tuesday arrested a man they believe set fire to an anti-abortion group after the FBI used DNA extracted from a partially eaten burrito to connect it to the Mason jar used in the attack. .
Hridindu Sankar Roychowdhury was arrested Tuesday in Boston and charged in connection with the May 8 firebombing of the Wisconsin Family Action office in Madison.
'If abortions aren't safe, then neither are you,' someone wrote on the wall of the building in graffiti during the attack, which came just days after Politico announced that the Supreme Court had the votes to overthrow Roe. c.Wade.
Authorities were able to remove DNA from a Mason jar they found inside, as well as glass and a lighter found at the scene, wrote a Dane County deputy who is part of an FBI Joint Terrorism Task Force in an affidavit.
There were no DNA results in a national database. But Wisconsin State Capitol police monitoring a protest on Jan. 21 saw several people spraypainting in "cursive-style handwriting" that bore "visual similarities" to the graffiti outside the office. 'Family Action of Wisconsin, according to the affidavit.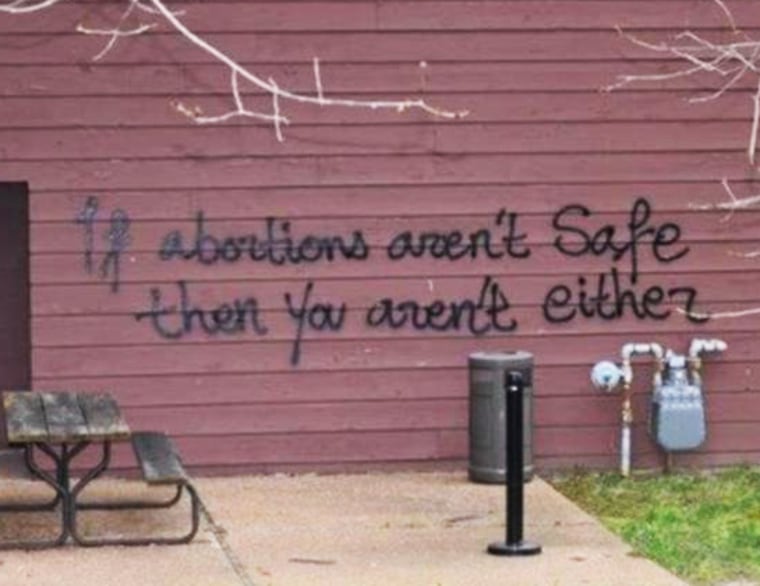 Using security video, they identified the owner of a white van who was seen leaving a parking lot near where protesters had spray painted. The truck belonged to a person who lived at Roychowdhury's address.
Earlier this month, law enforcement officers saw Roychowdhury throw a brown fast food bag onto a trash can in a parking lot. Authorities recovered the bag, which contained "a quarter portion of a partially eaten burrito wrapped in waxed paper, a soiled napkin, a crumpled napkin, a stack of napkins, the burrito wrapper, a crumpled food wrapper, four unopened packets of hot sauce," according to the affidavit.
The evidence was sent to a lab at the Bureau of Alcohol, Tobacco, Firearms and Explosives, and law enforcement officials "took the burrito for DNA and sent the swab to the ATF laboratory". The results came back March 17: DNA from the Wisconsin Family Action crime scene matched DNA from the partially eaten burrito.
Roychowdhury was arrested at Boston Logan International Airport on Tuesday; authorities said he purchased a one-way ticket to Guatemala City. A detention hearing was scheduled in federal court in Boston on Tuesday afternoon, and court records indicate the government requested his detention. Another hearing is scheduled for Thursday.
At a recent Senate hearing, Republican senators repeatedly asked Attorney General Merrick Garland why there had not yet been charges in the recent firebombings of anti-abortion facilities, suggesting that the Department of Justice was prioritizing the investigation of other crimes. Garland maintained that the attacks occurred under cover of night and that the Justice Department continued to search for the attackers.
In January, two people were charged and charged with spraying threats at buildings run by anti-abortion groups in Florida, including an Archdiocese of Miami Office Respect Life facility in Hollywood.
Gibson Ginger contributed.
nbcnews
Not all news on the site expresses the point of view of the site, but we transmit this news automatically and translate it through programmatic technology on the site and not from a human editor.