USA
World News
England v Scotland: Women's Six Nations Tournament – ​​Live | Women's Six Nations Tournament
Key events
TO TRY! England 24-0 Scotland (Heard, 28)
Just relentless from England. Bern explodes through the middle. It is transported within the 22 of Scotland. Kabeya has it but must welcome the contact. England recycle quickly and Packer, once again, breaks a tackle. Bern has it close. Hunter this time before Cleall blew a hole. Two meters further, then Heard, in place of the injured Reed, dives when the space opens. This is his first try in England.
Tuima places the extras.
TO TRY! England 17-0 Scotland (Macdonald, 24)
Stunning! Claudia Macdonald just scored a five-point blockbuster. It's an England scrum all the way down the right and it's back and down the line in a flash. Macdonald has it, almost from a standing start. She stands up like a defender and rounds him off with ease. She then pins her ears back and puts on the taillights as she leaves three Scottish players in her wake. Outstanding.
21 mins: Macdonald knocks. But again an excellent carry from Aldcroft. She also organizes a barnstorming game. Just like Marlie Packer who, in this form, must be the most devastating player in women's football.
20 mins: Scotland have a go, but they seem to lack the clout or power to disrupt England in the narrow channels. So they kick.
TO TRY! England 12-0 Scotland (Cokayne, 18)
The water is wet. Amy Cokayne scores tries. It required a corner finish after England running backs bulldozed Scottish tacklers for nearly two minutes. It started with a line out that was worked to Packer at the back that brought him downfield. The ball went left and then right again. Aitchison receives the ball so flat on the line that she therefore has options in the form of willing runners. There's an overlap on the right and Cokayne catches and scores. Simple as.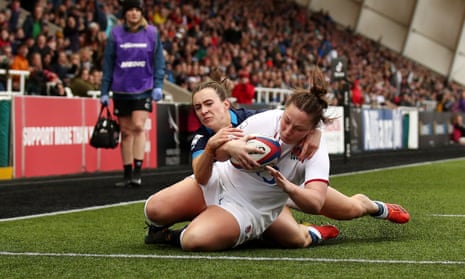 16 mins: Another big scrum from England but Scotland can handle it. A nil kick returns the ball to England who also kicks it. Scotland with the ball where the scrum took place and it ends in an English penalty. Bartlett doesn't get away in time.
14 mins: England with the scrum with their heels on their own try line. He comes out straight out the back and Aithinson starts him long. Rollie brings it back and Nelson has it again, except this time she can't connect with Orr. Smith cleans and loads up the line. He keeps moving forward before Breach makes an interception. The ball is sent to the halfway line for Scotland to recover.
13 mins: A gentle move from the back of the scrum sees the ball fizzle towards Nelson who is flat on the line, then picks out a nice pass for Orr on a counter-current run. She returns it to Nelson who approaches it. The ball is recycled and then Orr has a dart for the line. She reaches but not far enough. The ball is on the ground but it's just short. Nice game from the Scots.
12 mins: Dow messed up a routine hold inside her 22, hitting it somehow. It was sloppy. A great chance for Scotland to retaliate immediately.
TO TRY! England 7-0 Scotland (Macdonald 9)
Just relentless stuff from England. It started with Packer's break and was carried forward by Cleall's gallop through the middle. Macdonald on the outside shoulder of Reed collects the ball at the right time and can ignore the defender on the line to rush. Reed steps forward from inside center to insert the conversion.
9 minutes: Marlie Packer, so powerful. It is his portage that takes him deep into Scottish territory. Cleall is close. One meter less.
8 minutes: Scotland look good with the ball in hand. Nelson delays a pass and finds a runner. Bern give a tripping penalty so Nelson can start him on the pitch for a touch. But Cleall wins and England counters with Marlie Packer already charging with her fourth carry. Scotland lose their lead and award a penalty. Gallagher may have been unlucky, that ball looked down the back of the ruck.
6 minutes: Scotland have some possession but can't break through the white wall, so Nelson kicks in England's 22.
5 minutes : Marlie Packer again with a big carry, rolling the tackler. But a few phases later, Scotland receives a penalty on the ground. Cleall holds on with Belisle stealing it.
3 minutes: The penalty line-up goes to the middle where Kabeya knocks it down. The ball moves across the field. Aitchison and Tuima with some neat passes. They move forward slowly, but mostly move sideways, so the flyhalf kicks. They recover it after a bad Scottish kick and Marlie Packer makes a few meters. Dow does well to hold a tackle before Breach makes more ground on the right wing.
1 minute: Scotland kick off and England immediately fumble the ball. Not the best start. The visitors have a scrum just outside the 22nd, but England's squad absolutely monstrous the free-kick and win a penalty. Newbie Carson with a powerful second shove.
England retaliate with God save the king. Just a few tears in Hunter's eyes. Almost time now.
Just then, Flower of Scotland resounds in what sounds like a very cold Kingston Park.
I know I keep talking about Sarah Hunter, but she's really the star of the show today. She leads her team and sports a smile that almost touches her ears. No quiet stoicism for this English legend. She loves every minute of it.
Sarah Hunter is on my screen talking about a truly outstanding segment of the BBC. His dad gushed about telling a few anecdotes. His mother was there, beaming with pride. Same thing with his high school principal and his youth club coach. What a player. Which person.
We focused a lot on the English back line, with Maggie Alfonsi saying it feels like a "changing of the guard".
Much of this has to do with Sadia Kabeyawho discussed with Emma Jean in this cracking interview:
NOW Simon Middletonas he begins his final Six Nations campaign:
I'm good at it. I'm really happy with my decision and very excited to face another Six Nations. We have a lot of new faces. We've had a terrific three weeks training them and we'll see how we do.

We worked on a few things. We just want to see the girls come out and make a statement for themselves. I think seeing them having fun and doing each other justice will be important.

[On Hunter]: Couldn't be better for her. She goes through the same routine she's been through 140 times. She gave the game everything she had and was the best version of herself. Couldn't have been a better step for her today.
Just a reminder that Scotland lost nine in a row and picked up the wooden spoon last year. Don't worry, their coach Bryan Easson says they're "building it up". He certainly cut a calm figure while speaking to the BBC just now.
It's easy to get too schmaltzy when it comes to 'rugby values', but these are some really heartwarming images:
Scotland trusts the youth
Bryan Easson has named a young XV, particularly in the backline where his center and wing pairs – including debutant Francesca McGhie – have 11 caps between them. They are now led by a new attacking coach, Chris Laidlaw, who has been brought in to breathe life into an underperforming team.
Scotland: Rollie; Grant, Orr, Smith, McGhie; Nelson, Mattinson; Bartlett, Skeldon, Belisle, O'Donnell, McMillan, Malcolm (c), McLachlan, Gallager.
Subs: Rettie, Young, Clarke, Donaldson, Sinclair, McDonald, Blacklock, Musgrove.
The England squad in Sarah Hunter's final game
For the last time, Sarah Hunter's name is on a Red Roses team sheet.
Sadia Kabeya, one of the most exciting loose forwards around, starts behind a formidable tight five. Claudia Macdonald returns to the wing.
England: Dow; Brèche, Tuima, Reed, Macdonald; Aitchison, L Packer; Carson, Cokayne, Bern, Aldcroft, Cleall, Kabeya, M Packer, Hunter (c)
Subs: Davies, Crake, Clifford, O'Donnell, Beckett, Wyrwas, Heard, Sing.
Speaking of Sarah, here's a brilliant guide team by team to help set the stage for today:
Spare a thought for our journalist in the field. Sarah, if you're reading this let us know if you made it in time.
When the final whistle sounds later today and the players shake hands after a hard fight, spare a thought for Sarah Hunter which will call time on a remarkable career that spanned 16 years and included 14o Test caps.
England's most capped player has said she wants to leave on her "own terms".
"Few athletes get to choose how and when they put time into their playing career," Hunter said. "I'm very lucky to have the opportunity to finish my way. I couldn't think of a better way to do it than in my hometown where my rugby journey began.
"I can finish in a place that has a special place in my heart in front of my friends, my family and the Red Roses supporters and I feel very lucky to be able to do so.
"To play there in a white shirt – which I was extremely proud of and I feel very honored to have represented my country so many times – feels like an end that I couldn't look past and I feel very feel very lucky to have been able to do this.
Hi sarah. We may never see your fellow man again.
Good morning. It's good to be back, isn't it? Now, of course, another Six Nations tournament has just ended, but if you're English and you value winning then this is the one for you.
That's not to say a Red Roses fan is a glory hunter. If anything, the True Believers will be needed more than ever as the once unbeatable team is forced to start over. It's the first page of a new chapter after the heartbreaking defeat in the World Cup final last year.
Scotland will be desperate to prove that they are more than just a supporting character in this saga. They pushed England last year, especially in the breakdown which is likely to be a hotly contested area today, but were eventually routed 55-7.
My name is Daniel. Glad to be here with you for this one. Contact us if you wish.
Kick off at 4.45pm at Kingston Park in Newcastle.
theguardian
Not all news on the site expresses the point of view of the site, but we transmit this news automatically and translate it through programmatic technology on the site and not from a human editor.