USA
World News
Does Joe Biden have the mental capacity to run for US President in 2024?
The US presidential race is in full swing. The field of candidates running for the 2024 presidential elections is growing every day; On Monday morning, South Carolina Senator Tim Scott announced his candidacy for the Republican presidential nomination and Donald Trump's rival and Florida Governor Ron DeSantis will announce his candidacy today.
However, it seems Americans are more concerned about President Joe Biden's sanity and whether he has the courage and ability to run for a second time and rule the nation from the White House again.
Indeed, a new survey carried out by NPR/PBS NewsHour/Marist revealed that 62% of Americans don't think Biden, currently 80, has the mental capacity to serve. Asked about his closest rival, Donald Trump, 76, 43% of Americans didn't think he had the guts to do it.
Related Articles
Jury finds Donald Trump sexually abused columnist E Jean Carroll: Will Americans still vote for him?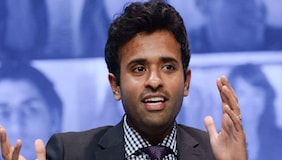 Vivek Ramaswamy's top tip for teens on how to succeed
We take a closer look at what the survey reveals and why Biden's mental health is the biggest concern for him and Democrats with the 2024 election in mind.
The mental health survey
A new survey was recently conducted by NPR and PBS News Hour and the results do not bode well for Joe Biden. A whopping 62% of Americans said the question of Biden's mental fitness is a real concern about his ability to be president. Only 36% of Americans dismissed questions about Biden's mental acuity, saying worries were just a campaign tactic used by his opponents.
However, Biden's rating was far higher than that of the leading Republican candidate, former President Donald Trump, whose mental health is a concern for 51%. Forty-three percent said his mental health was nothing to worry about.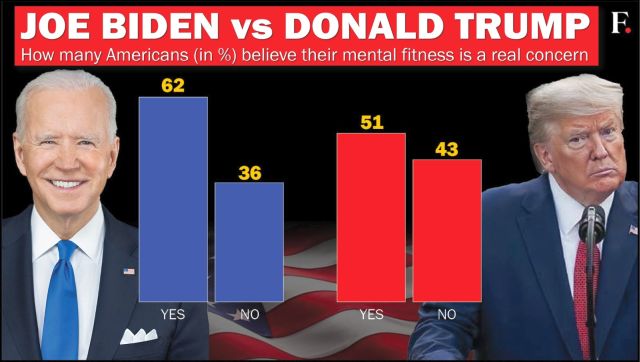 Biden's mental fitness is also becoming a big concern within the Democratic Party, according to the survey results. Nearly 4 in 10 Democrats said his mental fitness was a real concern.
Former Secretary of State Hillary Clinton, who served under Barack Obama, recently raised concerns about the US president's advanced age. Over the weekend at the Financial Times Weekend Festival in Washington, Clinton said, "His age is an issue, and people have every right to consider it." She added, however: "He has this great saying – and I think he's right – don't judge him for running against the Almighty, but against the alternative. I am from the side that I think he is determined to lead; he has a good record that three years ago people wouldn't have predicted he would have made.
Also Read: Joe Biden vs. Donald Trump Rematch in 2024: Why Most Americans Have Already Died
The survey also found that young voters are the age group most likely to poll Biden. Two-thirds of Gen Z and Millennials expressed concern. Biden's own contemporaries in the silent and older generations, those born before 1946, are the most likely to give him the benefit of the doubt — just 45% of them question his fitness, while 14% don't. don't know how to feel.
This survey echoes the findings of a previous one conducted by Washington Post – ABC News. They asked a similar question and found 63% of Americans saying Biden lacked the mental acumen to run for president.
Biden fuels fears
American concern over Biden's mental health stems from the many gaffes the 80-year-old US commander-in-chief is prone to. His ability to run for president a second time – he will be 86 when his presidency ends if he wins again in 2024 – has been put under the microscope.
During the recently concluded G-7 summit in Hiroshima, Japan, Biden was filmed nearly tripping down a flight of stairs at Itsukushima Shrine in Hiroshima, Japan. Fortunately, the president did not fall down the stairs or apparently injure himself while catching himself before he made contact with the ground.
And this is not an isolated incident. Earlier this year, the US president fell while climbing the stairs on Air Force One on his way from his surprise trip to Ukraine and Poland. And last year, he fell off his bike while speaking with reporters in his hometown of Delaware.
Biden was also left red-faced with his gaffe-prone comments. Last month, he had to rely on cheat sheets to answer them, with scripted answers written by assistants. He has made similar mistakes in the past, leaving supposedly confidential notes in the full light of the media.
Photographers caught him revealing a cheat sheet during the G20 summit in Bali, Indonesia last November that told him when to sit down and take pictures. A close-up of the seated president showed him a list of instructions saying 'YOU will sit in the center' and 'You will deliver opening remarks'.
However, his administration and his wife brushed aside any concerns about his mental health. US First Lady Jill Biden in March rejected a proposal by Republican presidential candidate Nikki Haley asking politicians over 75 to take a mental capacity test, calling it "ridiculous".
Asked about Biden's ability to campaign, she said CNN that his travel plan reflected his stamina. "How many thirty-somethings could travel to Poland, get on the train? Go nine more hours, go to Ukraine, meet President (Volodymyr) Zelenskyy? " she says. "So look at the man. Look what he does. Look what he continues to do every day.
Even former President Donald Trump has fueled concerns about Biden's mental acuity since the 2020 presidential campaign, once saying his successor was "not competent to be president."
Early last week, 61 Republicans called on President Biden to take a cognitive test or withdraw from the 2024 presidential race. Texas Rep. Ronny Jackson, who led the charge, wrote that at the In light of Biden's 2024 presidential re-election campaign announcement, they were concerned about his "current cognitive state and ability to serve another term as president."
The letter read: "When you first announced your candidacy for the 2020 presidential election, questions and concerns were raised about your cognitive abilities. These worries have only increased because your mental decline and forgetfulness have become more apparent since you were elected. Over the past two years, public appearances where you shuffle your feet, stumble when walking, articulate your words, forget names, lose your train of thought, and appear momentarily confused have become more common.
s
"These incidents are so common and noticeable that if you search 'Biden gaffes' online, more than 14,000,000 results come up," the lawmakers wrote. "These incidents and the rate at which they are occurring are very concerning and cast doubt on your ability to perform the duties required of the President of the United States."
With contributions from agencies
Read all Latest news, New trends, Cricket News, bollywood news,
India News And Entertainment News here. Follow us on Facebook, Twitter and Instagram.
firstpost
Not all news on the site expresses the point of view of the site, but we transmit this news automatically and translate it through programmatic technology on the site and not from a human editor.