USA
World News
Croatia v Wales: Euro 2024 qualifiers – live | Euro 2024 qualifying
Key events
84 mins: … so was it a deliberate shot or a missed cross? Let's go with the first one: there were no other Croats around, or in the middle, so chances are Perisic decided to buy a ticket for the raffle and have a go at the spectacular. That would have been a hell of a goal!
82 minutes: Modric sends a looping diagonal pass to Perisic, six yards from the goal line to the left of the goal, just outside the box. Perisic flies for the first time and sends a screaming, diving lurch over Ward's head and the crossbar!
80 minutes: Modric makes a smart pass on the right and almost releases Juranovic. Rodon is aware of the danger and rushes in to knock out for a corner. Modric delivers a shorter one this time, and it is claimed by Ward.
79 mins: Modric shoots for a long time, but Mepham is pointed at the far post to get away from the danger zone.
78 minutes: Sosa probes down the left, forcing Roberts out for a corner. Modric hits him long. Gvardiol gets up to the furthest stick and his header slams into Ampadu and comes out for a corner on the right.
76 mins: Kovacic and Kramaric give way to Vlasic and Pasalic.
75 minutes: Croatia, on the other hand, were a disappointment in the second half, after a fine performance in the opening 45. As a result, she is about to make some changes.
73 mins: Another long throw from Roberts from the right. A few tennis headers in the Croatian area. The ball is only half cleared and falls to Williams, who lands a decent first shot over the bar from the edge of the D. Wales were much better in the second half.
72 minutes: Space for Sosa in the lower left. His low cross is met by Kramaric, who attempts to drive home.
70 minutes: Moore gives way to Bradshaw.
68 mins: Modric sprays a nice diagonal pass to Juranovic on the right. Juranovic drops a shoulder to squeeze between two white shirts, but then goes off course in his attempt to enter the box and is forced to turn around. What a ball from Modric, though.
66 mins: Nothing comes from the corner.
65 minutes: Perisic throws a pass into the field from the left. Musa takes a throw-in to get into the box and scuffs a shot through the face of goal. In fact, there has been a deflection, and it will be a corner.
64 mins: Wales make a triple change. Burns, Thomas and Broadhead replace Wilson, Ramsey and James. A little surprising that Wilson is leaving, considering he was Welsh's main creative threat tonight and caused a whole world of trouble a few minutes ago. But there it is.
62 mins: Williams crosses from the left. Roberts tries to get a header on the ball but almost runs into Livakovic, who was catching. The keeper threatens to kick off, more than give a fuck what he has to say. But Roberts shows no interest in committing and everything calms down pretty quickly.
60 minutes: Wales should be at the level! Wilson charges into the inside right channel and almost clears into the box, only to be relieved of the ball by Sutalo. Ramsey gets things going by hanging on to the loose ball and backing up for Wilson, who crosses to James, free just inside the box on the left! He had to score, on his own and one-on-one with Livakovic, but fired his shot from close range far to the left. What luck !
59 mins: VAR is rightly not interested in the penalty shout. The ball hit Sutalo in his personal area.
58 mins: Roberts throws a shot into the Croatian box from the right. Moore wins a chilling header, then appeals for a handball from Sutalo. VAR to check.
56 mins: Plenty of space for Sosa on the bottom left. His low curling cross is met by Perisic, who lands an awkwardly right side kick at Ward. This is Croatia's 11th goal attempt; Wales only made one.
54 mins: Everything a bit disjointed, which probably suits Wales more than Croatia at the moment.
53 mins: No. He limps and Musa takes his place.
52 mins: Livaja is feeling her hip. The physios arrive. He doesn't seem willing or able to continue.
50 mins: It should be 2-0. Perisic crosses from the left. Rodon emerges. Kovacic locks in on the clearance and one-two in the inside left channel with Kramaric, whose cushioned touch is delicious and complements Kovacic beautifully. However, poor Kovacic suffers a rush of blood to the noggin and bursts into flames six yards out. It would have been a nice goal. Wales is breathing again.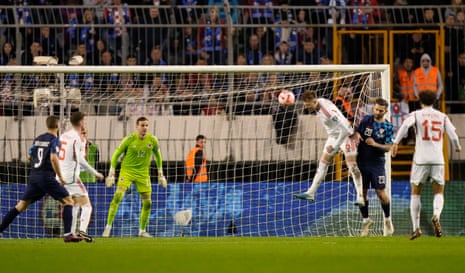 49 mins: Williams makes her way down the left sideline before passing Sutalo near the corner flag. Sutalo knocks him down from behind, but the ref waves to continue. It's a bad decision, which deprives Wales of what would have effectively been a corner.
47 mins: James runs to the left and crosses into an empty box. Goal kick.
46 mins: Perisic is immediately sent to the inner left channel. He reaches the edge of the box and prepares to buckle one to the top right, only to be hunted down by Mepham.
Wales start the second half. No change.
Half-time entertainment. Wilson has landed!
HALF-TIME: Croatia 1-0 Wales
No more than Croatia, on the strength of their World Cup exploits and full of confidence, deserve. They have been the best side by some distance. But Wales are still in this game. Big half-time team talk to come!
45 mins: Williams delivers Kramaric a careless square pass from the Wales left. Kramaric advances on the Welsh surface. A single shot to the inside left channel would put Perisic inside the zone…but Kramaric blooted wildly instead. A bad decision, and which earned him the severe displeasure of his teammate.
43 mins: Wilson takes and aims a curler up the wall and to the top left corner. It might have been heading, you know, but we'll never know for sure when the ball flies off Perisic's cover. Wales are rightly exasperated when the referee awards a goal kick to Croatia. Despite all of Croatia's dominance, Wales came close to equalising.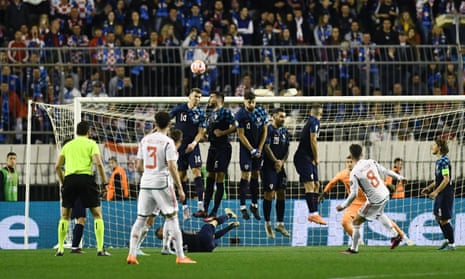 42 mins: Wilson prepares to protect a left-wing cross on the Croatian border. D. Gvardiol arrives awkwardly and knocks him down from behind. A free kick in a very dangerous position. One for Gareth Ba…ah.
41 minutes: Juranovic loops yet another cross from the right. Roberts takes a breath of fresh air in an attempt to clear, and is lucky the nearby Perisic assumed the task would be complete. If Perisic had bet Roberts was missing the ball, he would have shot from six yards with only Ward to beat.
40 mins: Croatia hits it back and forth on their defensive line, taking a small break.
38 mins: Kovacic, who suddenly looks very sharp, dribbled through the middle and launched Sosa to his left. Sosa tries to curve to the top right corner, but can't get any power behind the shot. An easy claim for Ward.
37 mins: Williams tries to free James on the left but is blocked without too much force by… Modric. Is there anything this man can't do?
35 mins: A long pass through the middle is headed by Perisic at the edge of the Wales penalty area. Modric attempts a dramatic diagonal looper to the top left corner, but is completely wrong. Goal kick.
34 mins: Moore goes down after taking a pass from Kovacic in the breadbasket. The game stops as he reassembles. Then playback resumes.
theguardian
Not all news on the site expresses the point of view of the site, but we transmit this news automatically and translate it through programmatic technology on the site and not from a human editor.