theguardian
Florida becomes US state with second-highest number of infections
WHO says 1m cases reported per week for last five weeks
Hard to find: what the shortages in household items say about how we live now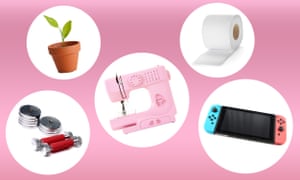 In early April, fearing his hard-won shoulders would shrink into nothing over lockdown, my husband attempted to buy some weights. He spent hours searching, online and in stores, and found no heavy things to lift. Even on Gumtree, where you'd expect an enterprising soul or two to be selling home gym equipment at jacked up prices, there was nothing. In the end, he improvised, filling a gym bag with 40kg of sand.
Weights are not the only thing to have mysteriously vanished from shop shelves over the past few months. There's been a national shortage of seeds, Nintendo Switch consoles are still hard to come by worldwide, and the scarcity of toilet paper is now so embedded in Covid-19 history, it has become part of museum collections.
This week, when face mask wearing became mandated in Melbourne, retailers struggled to keep up with the demand – not just for masks, but for sewing machines to make them:
Updated

North Korea holds emergency meeting after suspected Covid-19 case reported
Updated

Victoria launches Covid-19 ad blitz
Some of Australia's most successful – and memorable – public health campaigns have been graphic in nature, such as for warning of the harms of tobacco smoking, or the importance of seatbelts.
The Victorian government has decided to take this approach for advertising around Covid-19, and it follows warnings from the premier, Daniel Andrews, over the past fortnight that if people do not do the right thing and stay at home they are putting themselves, their loved ones and those around them at risk. Andrews has repeatedly been reminding the public that this is not an 'old person's disease.
The ads have been rolled out across radio, television and social media and features Covid-19 survivors who describe having the virus as being "like drowning". "I had coughing fits that went for one to two minutes. I was put in an induced coma, the doctors thought that I was going to die," a man in his middle age says in one of the videos.
"It is very real."
Victoria recorded 357 new coronavirus cases and five five more deaths on Saturday. It recorded its highest death toll on Friday, with seven deaths. The state continues to grapple with cases of the virus as other Australian jurisdictions have reported days in a row of no new cases.
Updated