Cities: Skylines 2 developer Colossal Order has delayed the release of planned content in the game's expansion pass, while continuing to improve the performance of the main game.
The studio released an updated roadmap on Steam, and Colossal Order CEO Mariina Hallikainen explained the decision to delay the DLC in a new developer diary.
"We are committed to bringing you the released DLC content," Hallikainen wrote, "but it will not arrive in the originally promoted schedule." Instead, the studio is focusing on improving the game's performance on PC before working on the delayed console release and DLC packs.
The game's first asset pack, Beach Properties, was delayed from Q4 2023 to Q1 2024, and the Urban Promenades and Modern Architecture creation packs were pushed back from Q1 to Q2 2024. The three additional radio stations which will be included in the expansion passes are now planned for the second quarter of 2024.
On Steam, the Expansion Pass cannot currently be purchased separately but is bundled with the Ultimate Edition of the game, which costs £75.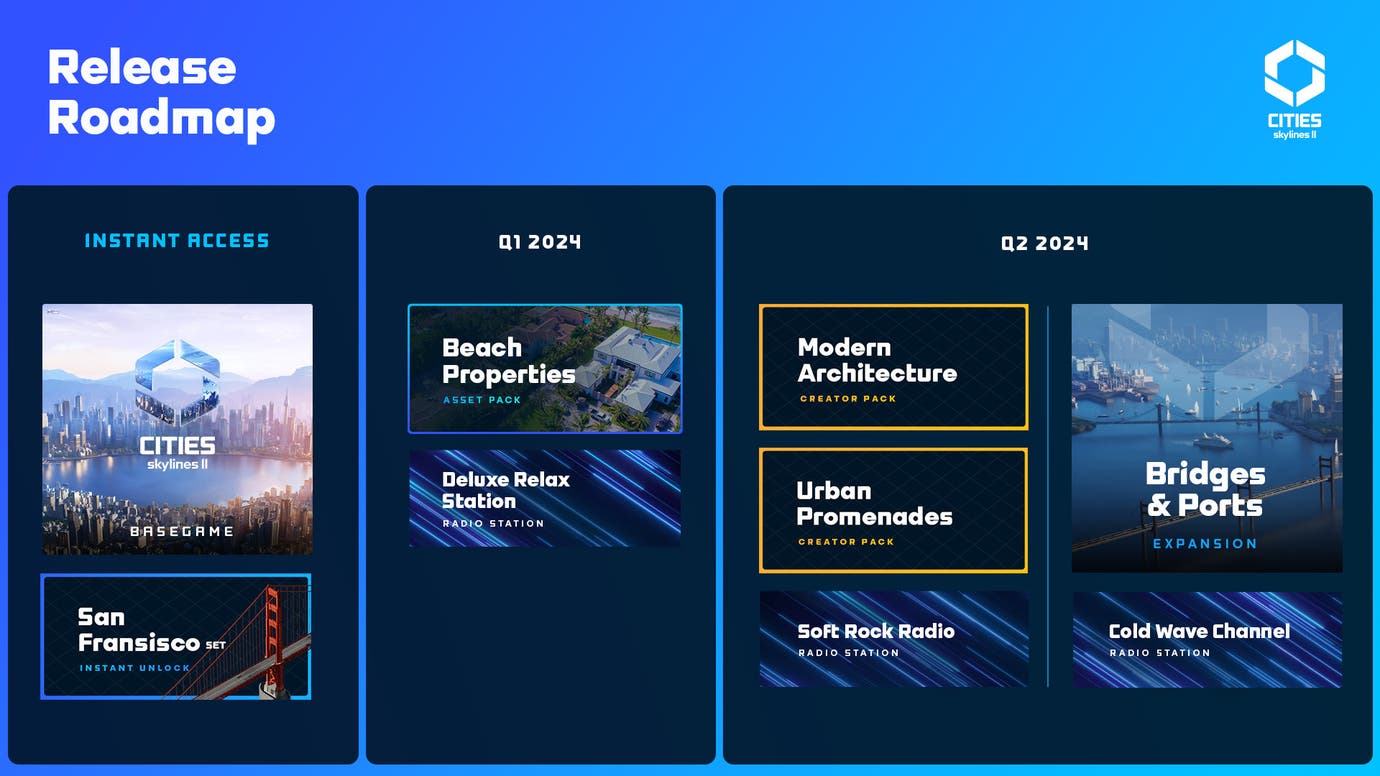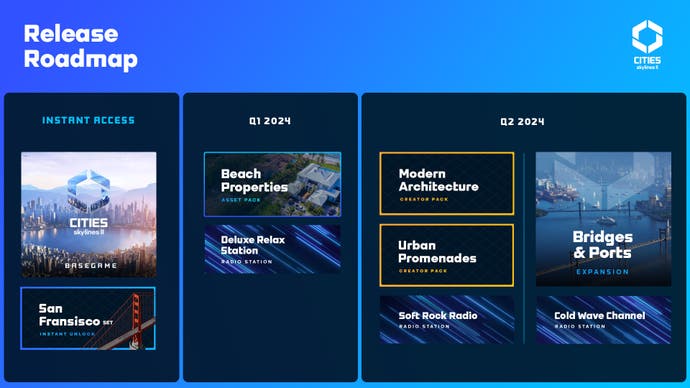 Earlier this month, Colossal Order pledged not to release paid DLC for Cities: Skylines 2 until it had successfully fixed its performance issues "by our standards", and Hallikainen apologized for the delay.
Colossal Order's priorities are performance improvements, bug fixes and modding/editor support, Hallikainen added, but work on implementing the first asset pack will begin "once the Asset correction and performance work will be completed to our satisfaction."
The recent developer diary indicates that there will be less frequent updates to Cities: Skylines 2 as Colossal Order shifts its efforts from hotfixes to larger fixes. The initial release of the modding tools is expected to take at least a few months, Hallikainen said last week, but the developer doesn't yet have a "concrete timeline."




Gn En tech