USA
World News
Brain and spinal implants restored movement in paralyzed man: study
A 40-year-old man whose legs are paralyzed is able to climb stairs, navigate ramps and go from standing to walking, thanks to implants in his brain and spinal cord that combine with external devices to translate his thoughts into motion.
The experiment was part of a proof-of-concept study published Wednesday in the journal Nature.
The patient, Gert-Jan Oskam, suffered a spinal cord injury following a motorcycle accident 12 years ago.
"When we met him, he was completely paralyzed, unable to take a step on his own without assistance," said Grégoire Courtine, study author and neuroscientist at EPFL, a research university in Switzerland.
In 2017, Oskam received an experimental implant in his spinal cord as part of a different clinical trial, which helped him regain his ability to walk. Lifting his heel slightly – something he could do on his own – Oskam triggered an electric current that stimulated the nerves in his spinal cord to allow him to take steps.
But these steps were awkward and he couldn't get around obstacles or walk on uneven surfaces.
"I felt a little stressed with every step, like I had to be in time with the beat or I wouldn't take a good step," Oskam said on a call with reporters on Tuesday.
And, after two years of this electrical nerve stimulation, as the approach is known, Oskam's recovery plateaued. He therefore joined the proof-of-concept study in 2021.
The system is different from existing technologies in its ability to translate brain signals into movement.
When Oskam thinks about moving his legs, the implant in his brain sends a signal to an external computer, which Oskam carries like a backpack. The computer then processes and transmits this signal to a pacemaker in Oskam's abdomen, which in turn sends electrical impulses to the old implant that was already in his spinal cord. This prompts Oskam's legs to move. A headset with two antennas helps implants stay connected to the computer.
Older technologies that use electrical nerve stimulation, although studied more, relied on minute patient movements or the click of a button to help the patient walk.
Henri Lorach, another EPFL scientist involved in the research, told reporters that using the new system, Oskam could walk naturally after several minutes of training. He also gained more control over his leg movements and was able to navigate trickier terrain, like gravel paths.
"The stimulation used to control me, and now I control the stimulation," Oskam said.
He added that he can now walk 100 to 200 meters (about 330 to 660 feet) a day and stand unsupported for about two or three minutes.
"Last week something needed to be painted and there was no one to help me so I took the walker and the paint and did it myself while I was standing," said- he declared.
HHow much mobility can a person gain?
Peter Grahn, an engineer in the Mayo Clinic's department of neurosurgery who was not involved in the new study, said a clear advantage of the technology is that it is less bulky than exoskeleton devices, which allow walking through bulky metal frames.
"A lot of devices have shown improvement in people with spinal cord injuries, but then people go home and this device sits in their closet," Grahn said.
Oskam's steps are still slow, but Courtine said future versions of the technology may one day allow her to go faster.
The researchers noted that during the study, Oskam regained the ability to walk on crutches even when the technology was turned off. They believe the implant system may have activated pathways in his brain that had become inactive but were still anatomically intact.
"What these technologies are doing is maximizing the existing material, essentially, in the nervous system. What we believe is happening is that by reactivating these pathways, they are strengthening them," said Marco Capogrosso, assistant professor of neurological surgery at the University of Pittsburgh. .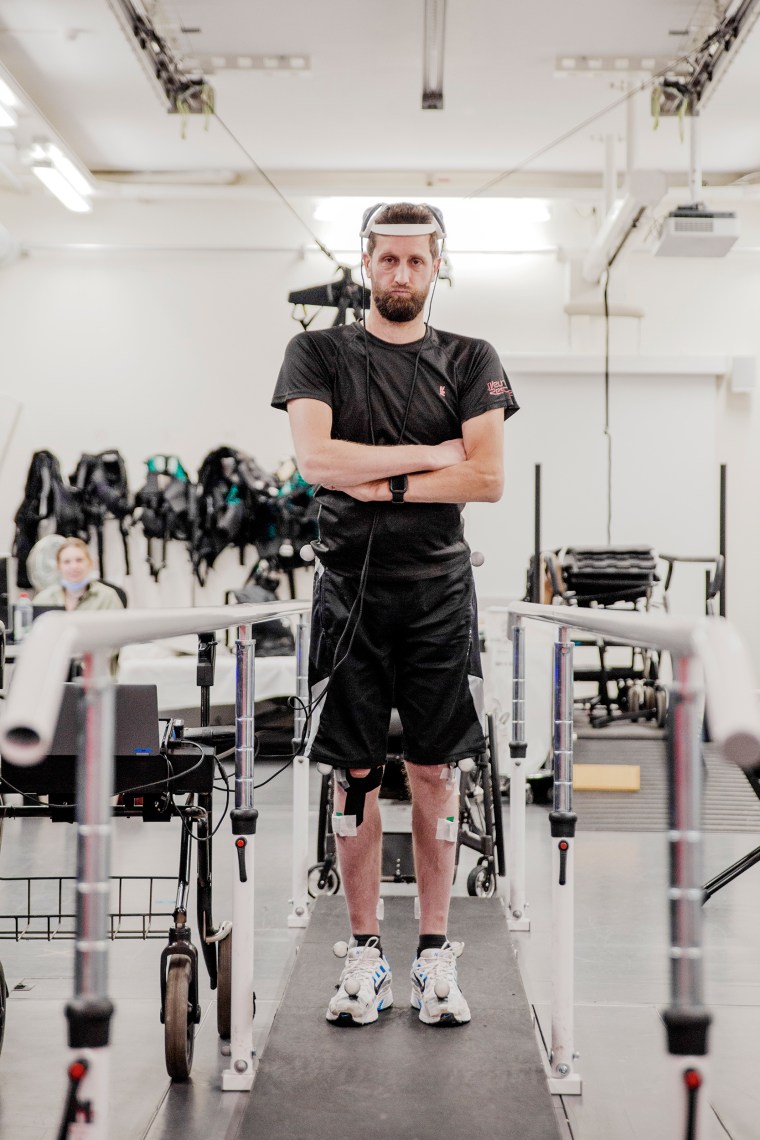 Capogrosso, who was involved in an earlier version of the research that tested the new technology on monkeys, published a paper last year showing that electrical nerve stimulation can help people regain movement in their arms and hands after a stroke. But it's unclear whether the new technology would work well for people with more severe paralysis, he said.
Megan Gill, an assistant professor of physical therapy at the Mayo Clinic who also wasn't involved in the study, also said it's hard to say how much technology has affected Oskam's recovery, given that his injury was moderate and that he had undergone rehabilitation prior to the study.
The implant system "does not prevent a completely paralyzed person from lying in bed and not getting up and walking around," Gill said. "This person had some ability to stand. He had some ability to walk even before this technology was implanted."
Additionally, Grahn said, most people with paralysis did not receive the electrical nerve stimulation that Oskam received, making it difficult to know how well the technology would work in other cases.
"Technologically, I'm a bit floored by this paper, but for real-world application there are a lot of challenges," he said.
Courtine was more optimistic.
"There's no reason why this shouldn't apply to the vast majority of people with spinal cord injuries," he said.
Courtine pointed to her own previous research, which revealed last year that a form of Nerve stimulation without a brain implant helped three people without independent motor function regain their ability to stand and walk.
"There's no reason why, if you add brain control, it won't be much, much better," he said.
When could paralyzed patients have access to this technology?
Dave Marver, CEO of Onward, the medical technology company developing the new system used by Oskam, said the company expects additional trials over the next 12 to 18 months. Two people will receive implants to help them walk, and two others to restore function in the hands and arms, he said.
Marver estimated that the system could become commercially available in four to seven years, although it would first require Food and Drug Administration approval. He said Onward plans to work with the Centers for Medicare and Medicaid Services to get the technology covered by insurance.
"The average cost over a lifetime to support a quadriplegic person is $5 million," Marver said. [or] private payers quite a bit of money."
Gill, however, noted that clinicians would need training on how to use the highly technical system.
"As a physical therapist, if someone walked into my gym and had this thing implanted, I would have no idea what to do with it," she said.
nbcnews
Not all news on the site expresses the point of view of the site, but we transmit this news automatically and translate it through programmatic technology on the site and not from a human editor.