USA
World News
Animal Rebellion occupies Gordon Ramsay's three-star Michelin restaurant | Environmental activism
Climate crisis activists occupied Gordon Ramsay's three-star Michelin restaurant in London's Chelsea on Saturday night to protest the "perfect inequality" these high-end eateries represent.
Members of Animal Rebellion entered the Gordon Ramsay restaurant on Royal Hospital Road, Chelsea at around 6pm.
They sat at tables reserved for customers and curated mock menus outlining the environmental costs of restaurant menu items, including steak and veal.
In a statement, the group said it was campaigning for a plant-based food system and the creation of a mass rewilding program.
Lucia Alexander, a 39-year-old practical nurse from the east of England who took part in the action, said: "This restaurant is the perfect example of the inequality we face in the UK in this moment.
"While Gordon Ramsay is serving food costing at least £155 per person, over 2million people are relying on food banks in this cost of living crisis.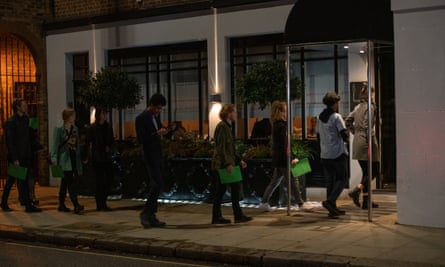 "Instead of restaurants making colossal profits at the expense of animals, workers and our climate, we need to feed everyone by supporting farmers and fishing communities in a transition to a plant-based food system.
"A plant-based food system requires 75% less agricultural land to produce food, allowing us to feed millions more people without relying on exploitative and inefficient livestock industries. It is the answer to the cost of living and climate crises.
The group said 14 activists took part in the protest and added: "At 8 p.m. the restaurant closed and protesters left peacefully through the front door."
Metropolitan Police said they were summoned to the restaurant shortly before 6.30pm 'over reports of a group of protesters refusing to leave the premises'.
He added: "The restaurant was closed and the protesters left. There were no arrests. »
A restaurant spokesman Gordon Ramsay said reservations were canceled and service was so disrupted the restaurant had to close.
The spokesperson added: "Everyone is entitled to their opinions and beliefs. However, breaking into a restaurant, disturbing the hard-working staff and ruining the evening of customers who have waited months for their reservations is incredibly inappropriate and deeply disrespectful.
Animal Rebellion describes itself as "a mass movement using nonviolent civil disobedience to call for a just and sustainable plant-based food system."
This week one of his campaigners was arrested after he apparently approached Sir David Attenborough at a Michelin-starred restaurant on the south coast.
theguardian
Not all news on the site expresses the point of view of the site, but we transmit this news automatically and translate it through programmatic technology on the site and not from a human editor.