France
According to the Washington Post, MBS threatened Washington with "major" consequences for its economy – RT in French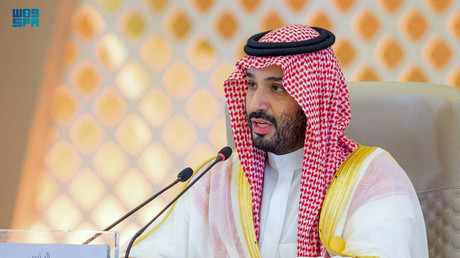 According to the Washington Post, Saudi Arabia's Crown Prince Mohammed bin Salman threatened the United States with an economic crisis because of the oil disputes. The alliance between the two countries seems to be crumbling.
According to a classified document, which recently leaked on a Discord server and to which the washington post, Mohammed ben Salmane (known as MBS) reportedly said that he would no longer deal with the American administration if the latter sanctioned him following their oil quarrel. The crown prince even promised "major economic consequences for Washington".
Remarks, undated, which would have been made following a warning from Joe Biden in October 2022. The tenant of the White House had then threatened Riyadh with "consequences" after his agreement with Moscow to lower the oil production of the OPEC+, as Washington pressed the Saudis to push the energy cartel to do the opposite.
This leak comes the day after the official visit to Saudi Arabia by United States Secretary of State Antony Blinken. Despite a "frank and open" discussion during his trip, the differences between the two countries continue to grow. Indeed, while the American diplomat was there, MBS and Vladimir Putin spoke on the phone. These revelations of washington post confirm the split between the two traditional allies.
Riyadh less and less aligned with Washington
Since 1945, Washington and Riyadh have been bound by the Quincy Pact. In exchange for American security, Saudi Arabia provides oil. But this situation has changed a lot. The Saudi kingdom no longer responds so easily to Washington's demands. On several occasions since the start of the conflict in Ukraine, the United States hoped that Riyadh would adopt a tough policy with regard to Russia.
However, not only has Saudi Arabia not aligned itself with the Western sanction regime, but it has also shown its interest in the BRICS – a group of countries to which Russia belongs – and has declared itself ready to dedollarize part of its trade.
Conspired and ostracized from the international mysteries after the assassination of the Saudi journalist Jamal Khashoggi in Istanbul in October 2018, the crown prince of Saudi Arabia had even been the subject of a particular reprimand from the new tenant of the House White.
During his presidential campaign, Joe Biden had thus promised to treat him as a "pariah" but also to "recalibrate" its relations with Riyadh. Western media pointed to the young leader's authoritarianism, human rights issues and the interminable war in Yemen. Joe Biden, however, traveled to Riyadh in mid-July, against the advice of his own camp, where he met MBS.
RT All Fr Trans
Not all news on the site expresses the point of view of the site, but we transmit this news automatically and translate it through programmatic technology on the site and not from a human editor.