USA
World News
3 dead and dozens injured after tornado hits Texas town
At least three people were killed and more than 50 others were injured Thursday when a tornado hit the town of Perryton, Texas, officials said.
The tornado struck Perryton, which has a population of about 8,500, around 5:10 p.m., said Trent Hoffeditz, a meteorologist for the National Weather Service in Amarillo.
Perryton Fire Chief Paul Dutcher said three people were confirmed dead. A trailer park was directly hit, he said.
The tornado caused "a lot of damage," particularly to mobile homes and businesses, Ochiltree County Sheriff Terry Bouchard told NBC affiliate KAMR of Amarillo.
"It basically went through the town of Perryton from northwest to southeast," he told the station. Two people are missing, he said.
Ochiltree General Hospital, which is in Perryton, said so had more than 50 patients.
Injuries ranged from cuts and bruises to the most serious, and several patients in critical condition were taken to other hospitals, hospital spokeswoman Amie Marrufo said.
Bouchard said about 56 people were treated in hospital and released.
Video from a passerby showed damage in downtown Perryton, broken trees and damaged and destroyed homes, as well as at least one overturned truck.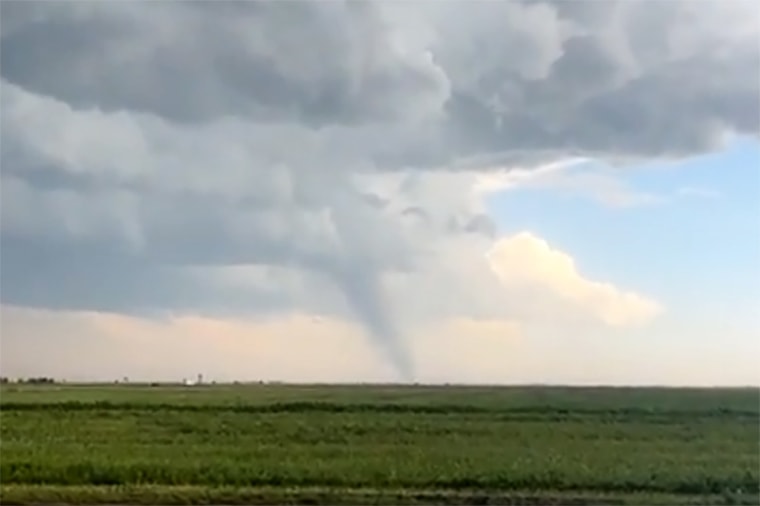 "Please keep the community of Perryton in your prayers," State Rep. Four Price, who represents the area, said on social media.
"A lot of structures are damaged," Price said.
Power was out in the city, but generators were keeping water service running, Mayor Kerry Symons said.
Gov. Greg Abbott said he ordered the Texas Division of Emergency Management to send help, including road crews and engineers.
"We remain ready to quickly provide any additional resources needed during this severe weather event," Abbott said in a statement. "I ask all Texans to join Cecilia and I in praying for our fellow Texans who have been impacted by this horrific storm. Stay safe, Texas."
Two Texas urban search and rescue groups, Texas A&M Task Force 1 and Task Force 2, have been dispatched to the area under the direction of the state's Division of Emergency Management, the spokeswoman said. Texas A&M, Merribeth Kahlich.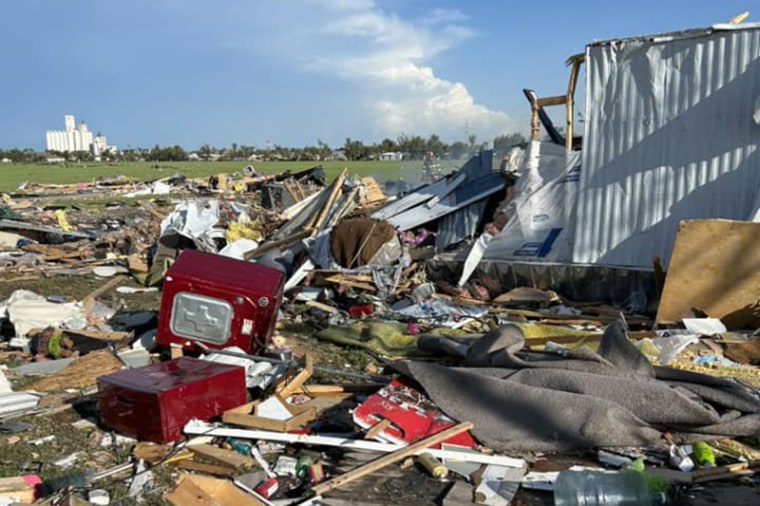 Forecasters believe a tornado has hit the city based on videos and photos. Its strength will not be known until damage investigations are completed, Hoffeditz said.
The National Weather Service had issued a tornado warning for Perryton, and it later said a tornado had been confirmed north of the city.
Emergency and other officials in Hansford County, which is adjacent to Ochiltree County, where Perryton is located, have been notified and prepared to respond to a mass or recovery event, the judge said. Hansford County or General Manager Tim Glass.
The nearby Hutchinson County Sheriff's Office was among the agencies that said they were traveling to the Perryton area to help. The sheriff's office said on Facebook that it was "a devastating tornado."
Sen. Ted Cruz, R-Texas, said his team is monitoring the situation in Perryton.
"Heidi and I are praying for the community, first responders and families affected by the storm," Cruz said in a statement.
It was an unusually wet May in the Texas Panhandle, and the moisture instability and lift helped create conditions for a thunderstorm, Hoffeditz said. A higher level system also played a part.
"The environment was just set for one to happen," Hoffeditz said. "It's just a shame he hit a populated area like Perryton."
The tornado was reported Thursday as tornado watches blanketed northern and central Texas and much of Oklahoma as severe weather passed through the region, according to the weather service.
By Wednesday evening, the storms had left the Panhandle, the Amarillo Weather Service said. Tornado watches remained for a portion of Texas that included the Dallas-Fort Worth area.
Damage surveys will be conducted to determine the tornado's strength and rating on the Enhanced Fujita Scale, Hoffeditz said.
nbcnews
Not all news on the site expresses the point of view of the site, but we transmit this news automatically and translate it through programmatic technology on the site and not from a human editor.